Nutrition
5 Delicious Recipes to Get More Vitamin D

+

When did you last have your vitamin D levels checked? A study in the journal Nutrition Research found that almost 42 percent of Americans suffer from a vitamin D deficiency. Your body needs vitamin D for your muscles, nerves, and immune system to function properly. Researchers are also studying possible associations between vitamin D and diabetes, hypertension, autoimmune diseases, and some cancers.
Vitamin D also helps your body absorb calcium, so a vitamin D deficiency can lead to soft and brittle bones (calcium is one of the major building blocks of bone). In the long term, that can lead to osteoporosis. Vitamin D deficiency can also be a problem in folks who take corticosteroids for arthritis. And even if you don't take steroids, getting enough vitamin D is still super-important. A recent study of 340 adults about symptomatic knee osteoarthritis and vitamin D found that getting enough vitamin D was associated with less cartilage and physical function loss.
So it should go without saying that you want to meet your daily recommended amount of vitamin D—which, for adults 19 to 70 years old, is 20 mcg (800 IU) per day. Your body makes vitamin D through sun exposure, so your doctor may already have recommended a supplement in the winter months. The thing is, as the weather warms and you spend more time outside, you're likely also loading up on sunscreen and wearing protective clothing. This is good, and you shouldn't stop; but it does mean that you need to be mindful of getting vitamin D from other sources all year long. These recipes combine vitamin D-rich foods with calcium-rich food, so you can help keep your body in peak condition no matter the season.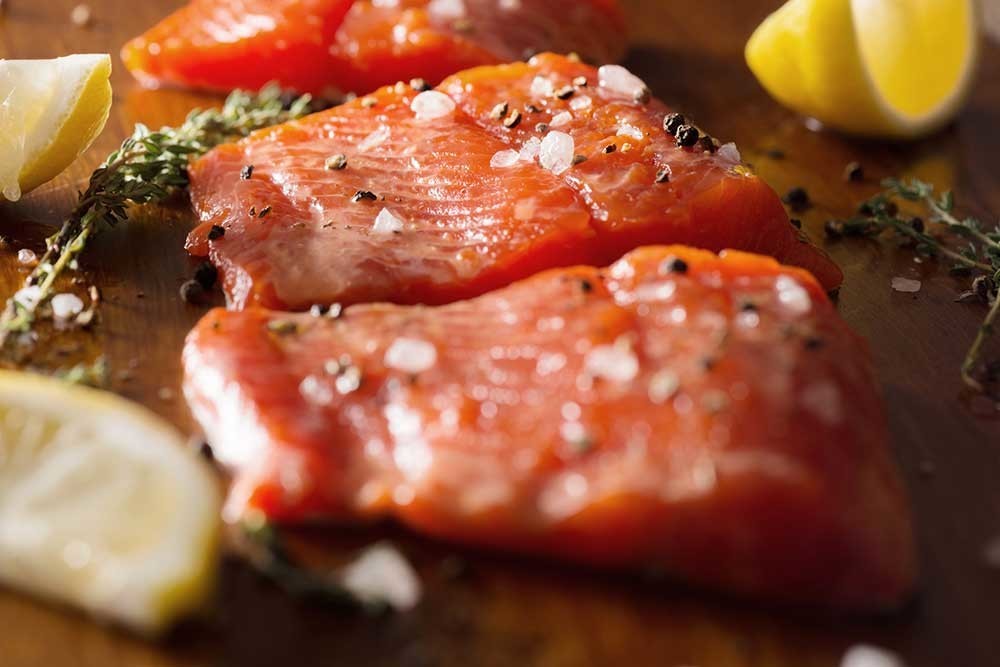 Seared Salmon With Braised Broccoli
Salmon is a vitamin D superhero, with 11.3 mcg in a 3-ounce piece. There are a million ways to cook it, but try this recipe and make it with a side of broccoli, which will provide 60 milligrams of calcium per 8 ounces, and 200 milligrams if you sub in broccoli rabe.
Tuna and Bean Salad in Pita Pockets
Tuna is another fish full of vitamin D, with 3.5 mcg in a single can. Mixing it with great northern beans, which have 139 milligrams of calcium per cup, is a great way to work toward your daily quota of both nutrients. Top it off with lemon and olive oil for a light, fresh-tasting (yet protein-packed) meal.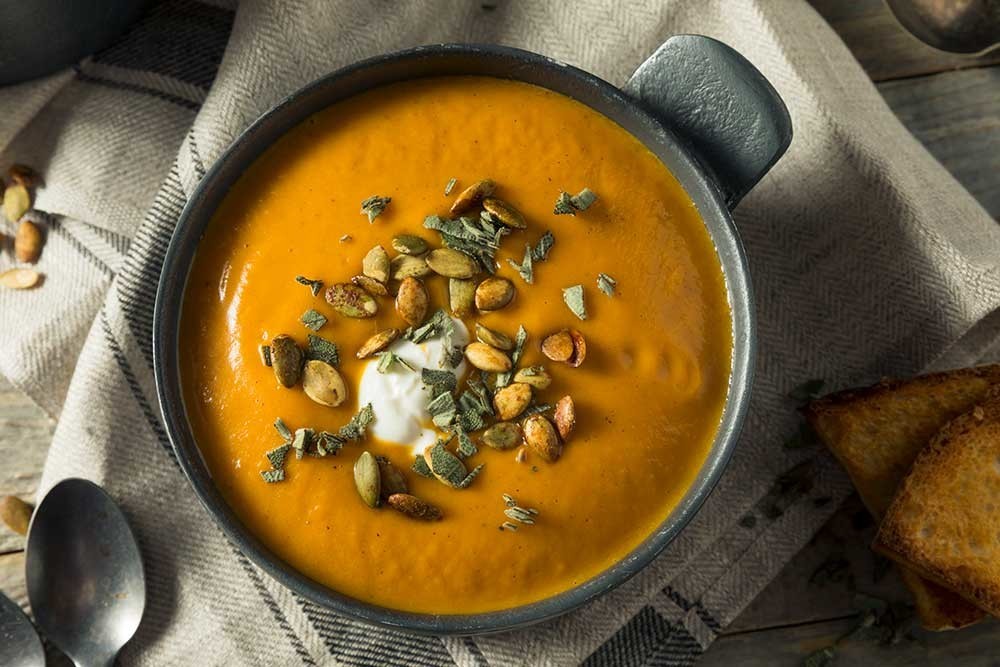 Curried Butternut Squash Bisque
Warm up with a healthy soup that doesn't sacrifice any flavor. Hearty butternut squash has 84 milligrams of calcium per cup, while nonfat yogurt has 488. The trick here is to pick a yogurt brand that's been fortified; while dairy doesn't naturally contain vitamin D, many products are fortified with it. Check the labels at your local market.
This dish is so versatile—you can enjoy it at breakfast, lunch, or dinner, and it's filling and healthy. You'll get some vitamin D thanks to the eggs (1 mcg), and calcium courtesy of the sweet potato (76 milligrams per cup) and kale (180 milligrams). Not to mention all the nutrients in the veggies making up your burger!
Roasted Swordfish and Broccoli Rabe With Piccata Butter
Fatty fish are among the best sources of vitamin D. Swordfish has 14 mcg of vitamin D in a cooked 3-ounce piece, and that side of broccoli rabe will bring home the calcium benefits.
Get more great health and wellness stories at EatingWell.com/Strive.