Nutrition
8 Sparkling Alternatives to Soda

+

These fizzy recipes will soon be your new faves.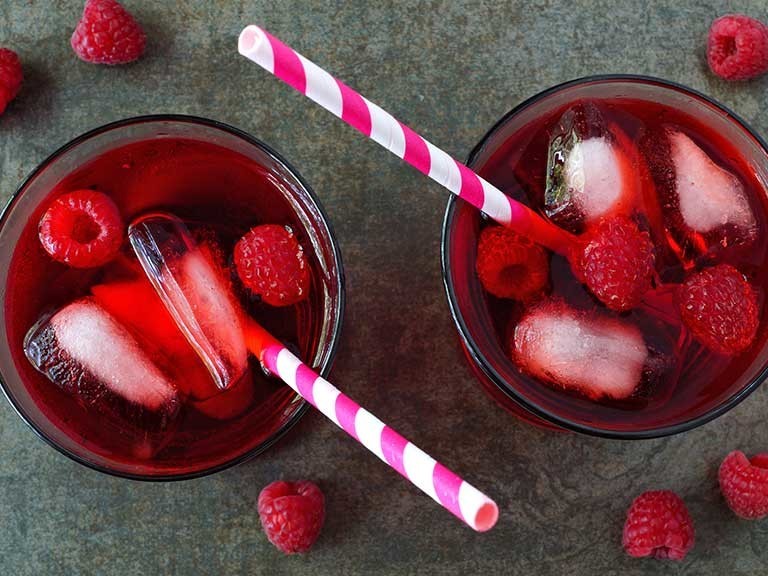 You know that you shouldn't really drink traditional sodas — the caffeine can keep you up, they're full of added sugars, and they may even trigger heartburn. But if you're craving something bubbly and don't like plain seltzer, there are still plenty of tasty, fizzy drinks you can make right at home. Try making one of these refreshing recipes:
Sparkling Pomegranate-Chai Mocktail: This sparkling beverage combines the natural sweetness of pomegranate juice with the spice of chai tea, and gets its fizz from sparkling apple cider. Make a big batch of it and serve it at brunch or a dinner party!
Cucumber-Peach Hibiscus Spritz: This drink is full of summery flavors, but you can make it all year long thanks to frozen unsweetened peach slices. Add in berry-hibiscus tea, fresh cucumber, lime juice, and sparkling water to round out this super-flavorful beverage.
Rock Your World: A recipe that's both refreshing and provides some of the key nutrients your body needs? Yes please! Just combine fresh raspberries, orange juice, sparkling water, and Emergen-C Raspberry Immune+ vitamin drink mix, which provides vitamin C, B vitamins, and electrolytes. Cheers!
Fresh Grape Fizz: Skip store-bought grape juice and make your own by pureeing grapes in a blender (just drain through a fine-mesh sieve to remove extra skins). If your grapes are fairly sweet, you may not need to add any honey at all.
Habanero Pepper Sipper: If you're looking for a drink with a little heat, look no further. This zesty drink takes some prep work, but is sure to be a hit. If you don't want something spicy, using low-heat habaneros such as Habanadas will provide a floral note.
Sparkling Cran Razzy: Combine cranberry and raspberry juice with seltzer to make a fruity fizz. The secret to making this drink look as good as it tastes? Freeze whole, plump fresh raspberries to use as ice cubes.
Watermelon Agua Fresca: Few things are more refreshing than watermelon on a hot day. Combine some into a blender with lime juice and club soda and you have the perfect summer drink the whole family will love.
Summer Fruit Punch: Who says fruit punch has to include berries? This punch combines apricot juice with seltzer and whatever your favorite stone fruits are, whether that's plums, peaches, nectarines, or apricots.
Get more great health and wellness stories at EatingWell.com/Strive.