Nutrition

The Secret to Making Soups That Won't Leave You Starving
Soup seems like a great lunch…until you're hungry two hours later. Here's the secret ingredient you're missing.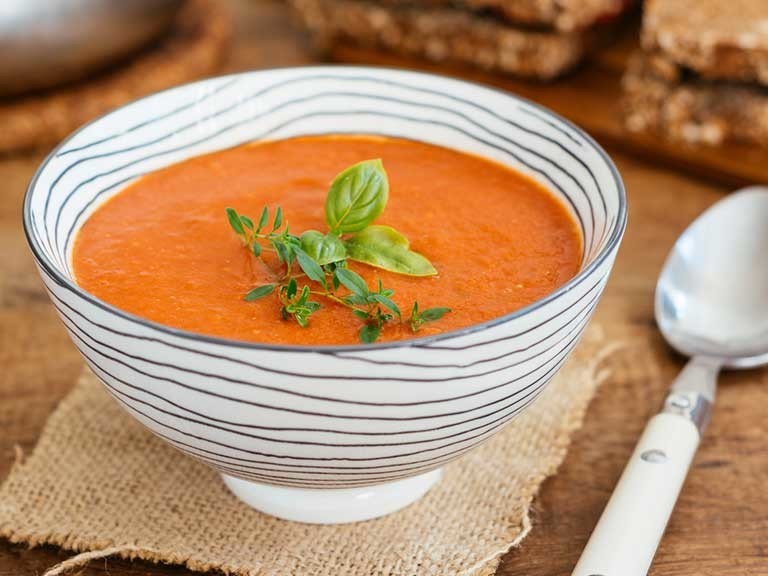 If you've ever had a toothache, you know how it can make eating your favorite foods more painful than comforting. While taking an over-the-counter pain reliever like Advil can help, you'll probably still want to eat some foods that don't require a ton of chewing. The most obvious choice for that is soup. The problem: Many soups leave you less than satisfied even after you've scraped that last spoonful from the bottom of the bowl.
That's where these delicious options come in. Not only are these recipes nutritious, but they'll fill you up and keep you satisfied for hours. The secret? They contain legumes like lentils and beans. Legumes are good sources of protein and fiber to keep you from getting too hungry too soon, and they contain other nutrients like calcium and potassium. Plus, they're low on the glycemic index, which means your body digests the carbohydrates in legumes slowly, providing you with steady energy. The best part is, of course, that they're delicious in soup. Try these recipes to see what we mean!
LENTILS
Curried Red Lentil Soup: This recipe combines ginger, jalapeno, curry powder, cinnamon, cumin, and more to give lentil soup a delicious Middle Eastern flavor.
Moroccan Lentil Soup: This spice-heavy soup gets better as the days go on, so it's perfect for making on a weekend and dividing up for your lunches for the week.
Very Green Lentil Soup: This veggie-forward lentil soup includes spinach, chard, scallions, and even French green lentils! (If you can't find those, it's still tasty and colorful with brown lentils too.)
BLACK BEANS
Black Bean Soup: It doesn't get more classic than this Southwestern mix of black beans, chili powder, cumin, and lime juice.
Citrus-Scented Black Bean Soup With Chipotle Cream: The chipotles add a great smokiness to the soup, while the dollop of sour cream on top helps cool things down.
CHICKPEAS
Squash, Chickpea, and Red Lentil Stew: Use seasonal produce like butternut squash and carrots in this stew inspired by North African cooking.
Pasta e Ceci: You may not see this on a lot of restaurant menus, but this comforting combination of chickpeas and short pasta in a rich soup is a true Italian classic.
WHITE BEANS
Broccoli, Cannellini Bean, and Cheddar Soup: Kick your regular broccoli cheddar soup up a notch by adding pureed white beans. They keep the soup creamy without needing to add a ton of extra cheese.
Bean and Barley Soup: Perfect for lunch, this soup uses barley to up the fiber even more and fennel to give it a deeper flavor than canned varieties.
White Bean and Roasted Tomato Soup: Pureeing the beans makes this even easier to eat if you have a toothache, while roasting the tomatoes give it an unbelievable amount of flavor.