Nutrition

I Put My Kid in Charge of Our Meals for a Day and This Is What Happened
Would you let your child meal plan for the whole family?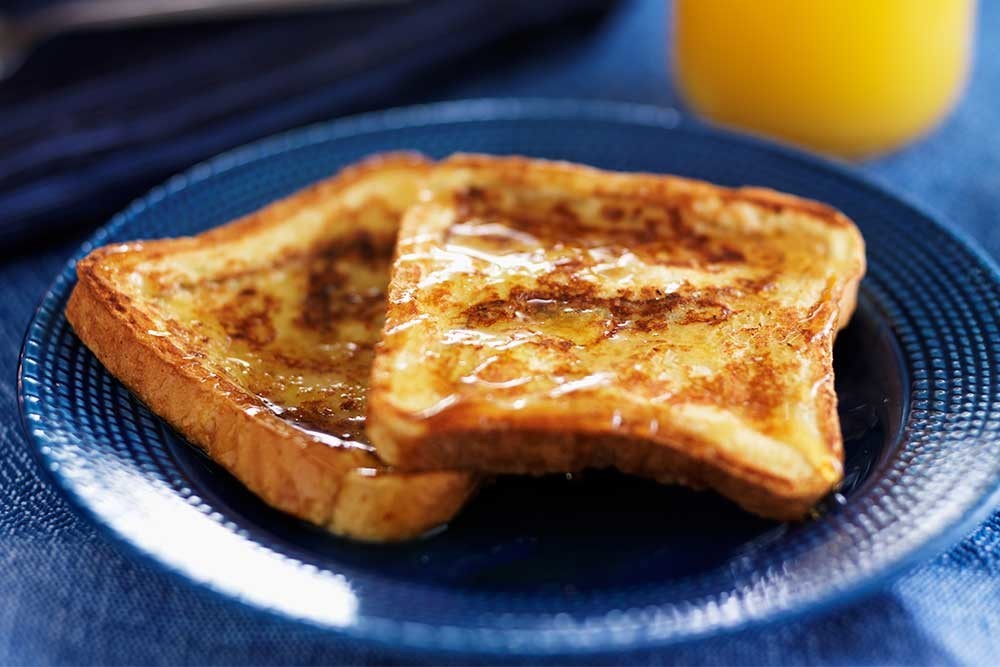 I have four daughters, and it usually feels like my babies are growing up way too fast. But every now and again, I'm reminded of how nice it is, too, like when my oldest can read aloud to her siblings while I get something else done, or when I can send them to put away their laundry, or when they can buckle their own seatbelts. I'll also never complain about sleeping through the night.
As I was getting the menu and grocery list ready for the week recently, I casually suggested to my oldest daughter, who is 7 ½, that she might take over one day of planning and preparing the meals. To my surprise, she was thrilled by the idea. She told me, "My sisters are going to love this because I have similar taste to them."
When you give your child free rein with the menu, it's hilarious to see what is important to them. I wasn't shocked to see her choose French toast for breakfast, but I was really surprised by how saltine crackers were on her lunch menu and her lunch dessert choice was...trail mix. Who knew I could skip the ice cream and baking, and just pass out a small dish of raisins, peanuts, and M&Ms, and she'd be a happy camper?
We kept the French toast. For lunch, she ended up choosing peanut butter and banana sandwiches along with some chips, those saltine crackers, sugar snap peas, and juice (a rarity in our house). For dinner, she chose her favorite: grilled cheese and tomato soup. (I also may have also suggested that we make some cookies for lunch dessert instead of that exciting trail mix.)
Before bed, she could hardly contain herself, she was so excited about getting to cook everything the next day—truly, she was more excited than she'd been for Christmas morning.
The day we'd chosen for her to be in charge was a weekend, so happily we didn't have to get out the door to school and work. This turned out to be very fortunate because the number-one thing to know about handing over cooking and meal prep to your child is: It takes forever. You don't recognize how fast and efficient you are about chopping vegetables, spreading peanut butter, or stirring ingredients into soup until you watch your child take 10 times longer to do it than if you did it yourself.
I will say, the French toast went off without a hitch—well, mostly. The last few pieces were completely dry on one side because we ended up with too much bread for the egg wash, but everyone enjoyed it.
For lunch, we were going on a family outing to the zoo, so she packed lunches for everyone (with some help from me), and it was the cutest thing how proud she was of her peanut butter sandwiches and side dishes. When we ate our lunch at the zoo playground, she kept asking her siblings, "Don't you love this lunch I made?" There was just one small snag: We ended up one sandwich short. Whoops. My husband bought himself a cheeseburger, so he wouldn't have to eat nothing but sugar snap peas and saltines for lunch.
When we got home and dinner time rolled around, my daughter started getting out all the supplies for grilled cheese, while I helped with the tomato soup. My girls help in the kitchen quite a bit, so it was a surprise to me what steps she didn't know when she was completely in charge of assembling the grilled cheese sandwiches. For instance, she didn't realize you had to open the two slices of bread like a book, and that you usually slice cheese, rather than grating it, when you make a grilled cheese sandwich. She also had no feel for how much mayonnaise to spread on each piece of bread—the kind of thing I'd never think of mentioning until she started asking if it was enough. But in about 45 minutes, we had beautifully toasted sandwiches and some delicious soup ready to eat.
I think it was probably the best dinner she's ever had. It was a great reminder to me that children love to be involved in the grown-up world, even with things that feel completely boring to an adult. I probably won't be handing over the reins to my 7-year-old entirely, but I'll give her more opportunities to help in the kitchen and have some say in what we eat. And I'll also buy some trail mix!
Find more great health and wellness stories at EatingWell.com/Strive.