Nutrition

8 Creative Ways to Have Breakfast for Dinner
When you're sick, the last thing you want to do is spend hours prepping a meal. But instead of reaching for takeout, try having breakfast for dinner! So many breakfasts are designed to cook quickly with minimal effort and are packed with nutrients, too (for example, if you're making any of the egg recipes below, a large egg contains around 6 grams of protein and is also a source of vitamins A, D, and folate). Bonus: You can easily reheat any leftovers for actual breakfast tomorrow. Try making any of these dishes—you may find you like them so much, you're eating breakfast for dinner even when you feel just fine.
Spinach and Egg Sweet Potato Toast: Your toaster oven isn't just for making toast! Use it to quickly cook a sweet potato for this recipe, then top with spinach, an egg, and hot sauce for a fast and flavorful veggie-packed meal that has 8.9 grams of protein. Looking for something sweeter? Try topping the sweet potato toast with apple and gouda.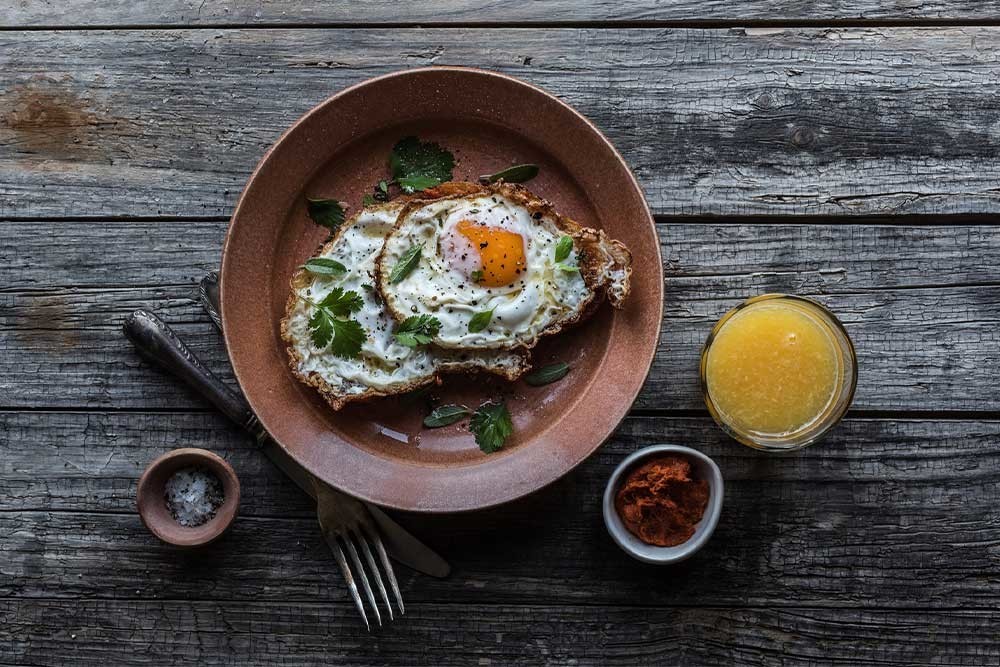 Sheet-Pan Eggs With Spinach and Ham: This protein-packed (13.8 grams of it to be exact), gluten-free meal might just be the easiest big-batch recipe ever. Stir together all the ingredients, pour into a sheet pan, and bake. In the morning, the leftovers (you will have leftovers) reheat in less than a minute.
Salsa Scrambled Eggs: Get Taco Tuesday on the table in 10 minutes with this breakfast taco recipe that offers 17 grams of protein. All you need to do is stir cheese and salsa into your eggs as you scramble them, then pop the mix on top of tortillas. Add your favorite toppings (like hot sauce to clear your sinuses) and you're set.
Skillet Hash: This recipe uses sweet potatoes, turkey sausage, and baby spinach, but you can throw any ingredients you have on hand into this one-pan meal. Just cook the veggies and meat (if using), add the eggs, and top with whatever cheese you have on hand. Done! Plus, it has almost 18 grams of protein and 3.6 grams of fiber.
Chocolate Banana Oatmeal: Dessert-for-breakfast-for-dinner? Why not! This oatmeal utilizes bananas and chocolate-hazelnut spread, and is ready to go in less than 10 minutes. The best part? Oats are also a good source of protein (this recipe totals 6.6 grams of protein).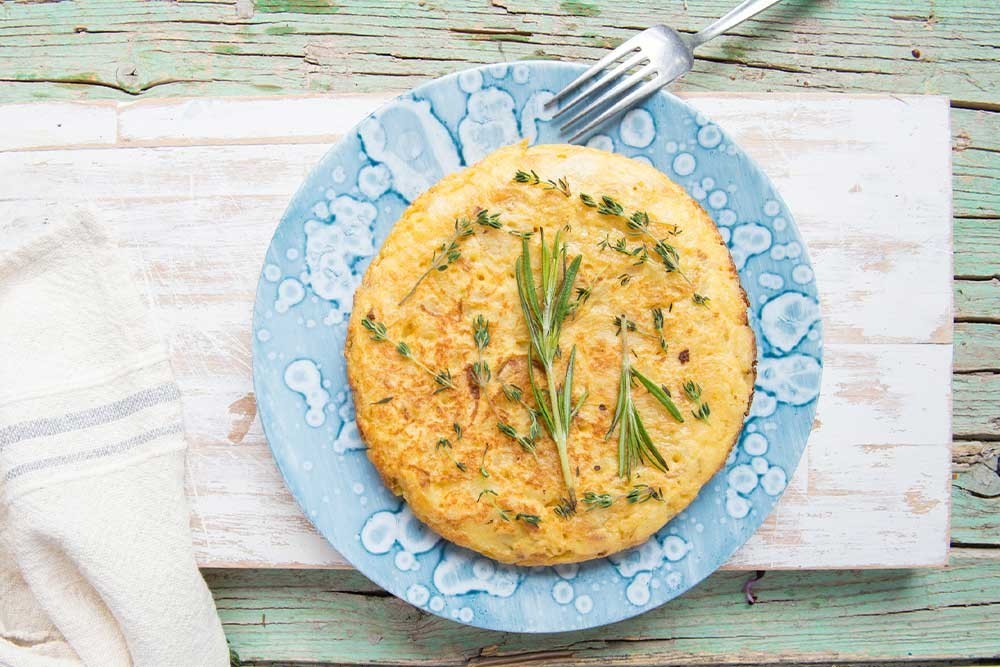 Herb and Onion Frittata: Chances are high you've got half an onion and some unused sprigs of herbs lying around in your fridge. All you need to do is toss them in a nonstick skillet with some eggs. Top with cheese, pop a slice on whole-grain toast, and you've got a filling meal that offers 22 grams of protein in no time flat.
Egg-Stuffed "Baked" Potatoes: What's better than a stuffed baked potato when you're not feeling great? One stuffed with breakfast ingredients like peppers and eggs! But there's no need to spend an hour baking your potatoes for this recipe. Instead, prick them all over with a fork, and microwave them to soft perfection in less than 10 minutes. The best part about this meal is that the egg makes it high in protein — 10.2 grams to be exact!
Curry Cashew Oatmeal: If you've never tried savory oatmeal before, add this recipe to your rotation stat. Simply mix curry powder, raisins, and cashews (or whatever nuts you have on hand) into cooked old-fashioned rolled oats for a delicious new-fashioned dinner that offers 8.6 grams of protein.
Oatmeal Almond Protein Pancakes: It's time to make the breakfast of your childhood part of your healthy diet. And yes, it's possible to make pancakes healthy while keeping them delicious! These use almond flour, oat flour and protein powder to add an extra nutritious punch. But they still have vanilla, cinnamon, and sugar for your nighttime sweet tooth. It's all about balance. Overall, these pancakes offer 19.7 grams of protein.
Make-Ahead Broccoli Cheddar Quiche: This quiche has enough cheddar to curb your cheese cravings, and you'll have leftovers that reheat in a minute. You can even use a frozen pie shell and pre-cut microwaveable broccoli to cut down on prep time. Just make sure the broccoli is cooked until just tender so everything's perfectly cooked (and not soggy!) once it comes out of the oven.
Mushroom Spinach Eggs Benedict: Make brunch at home with this nutritious version of an eggs benedict (This recipe contains 15.2 grams of protein and 5.2 grams of fiber)! Ham is replaced with silky mushroom and spinach, and the sauce and poached eggs are a lot easier to make than you think. The best part? Since it's dinnertime, you won't feel guilty for pouring yourself a mimosa—or two.
Get more great health and wellness stories at EatingWell.com/Strive.