High-quality Spanish imports are readily available in the U.S., making it easy to capture the tastes of Spain right in your own kitchen. In partnership with Foods and Wines from Spain and Alimentos de España, here are some of our favorite delicious and nutritious Spanish dishes that perfectly align with the spirit of the Mediterranean diet.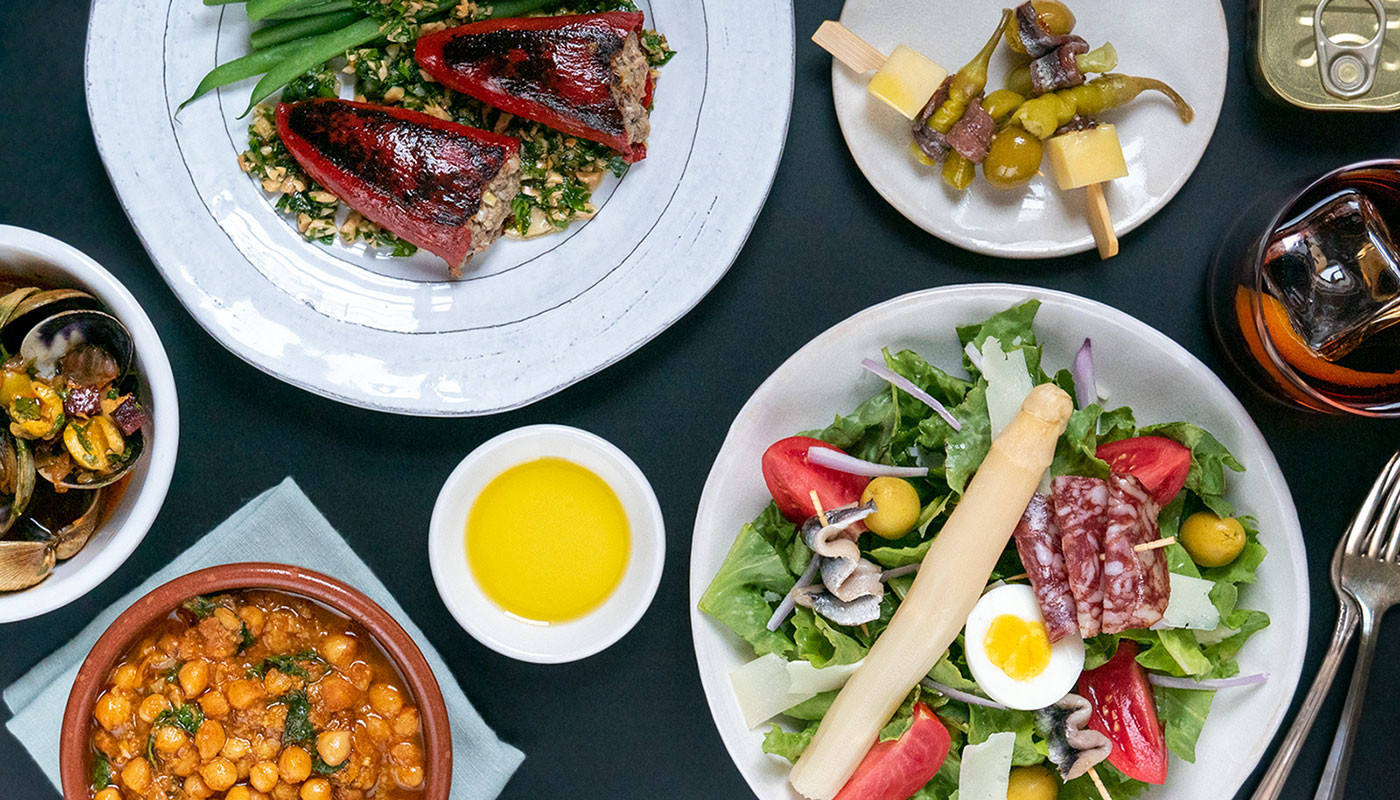 All photos: Perry Santanachote
The Mediterranean diet emphasizes whole grains, legumes, vegetables, olive oil and fish, but above all else, this healthy, balanced way of eating is a lifestyle. In Spain, for example, folks leisurely enjoy food and wine with family and loved ones on a daily basis and savor every bite. It just happens that these culinary treasures also provide plenty of lean protein and heart-healthy fats.
Read on for flavorful snacks and hearty meals that celebrate delicious tinned seafood, jarred vegetables, dried chickpeas, potent spices and top-shelf olive oil, all elements of the Mediterranean diet. Even high-quality Spanish cheeses, cured meats and wine are encouraged—everything in moderation! Each recipe makes enough to serve four people, family-style.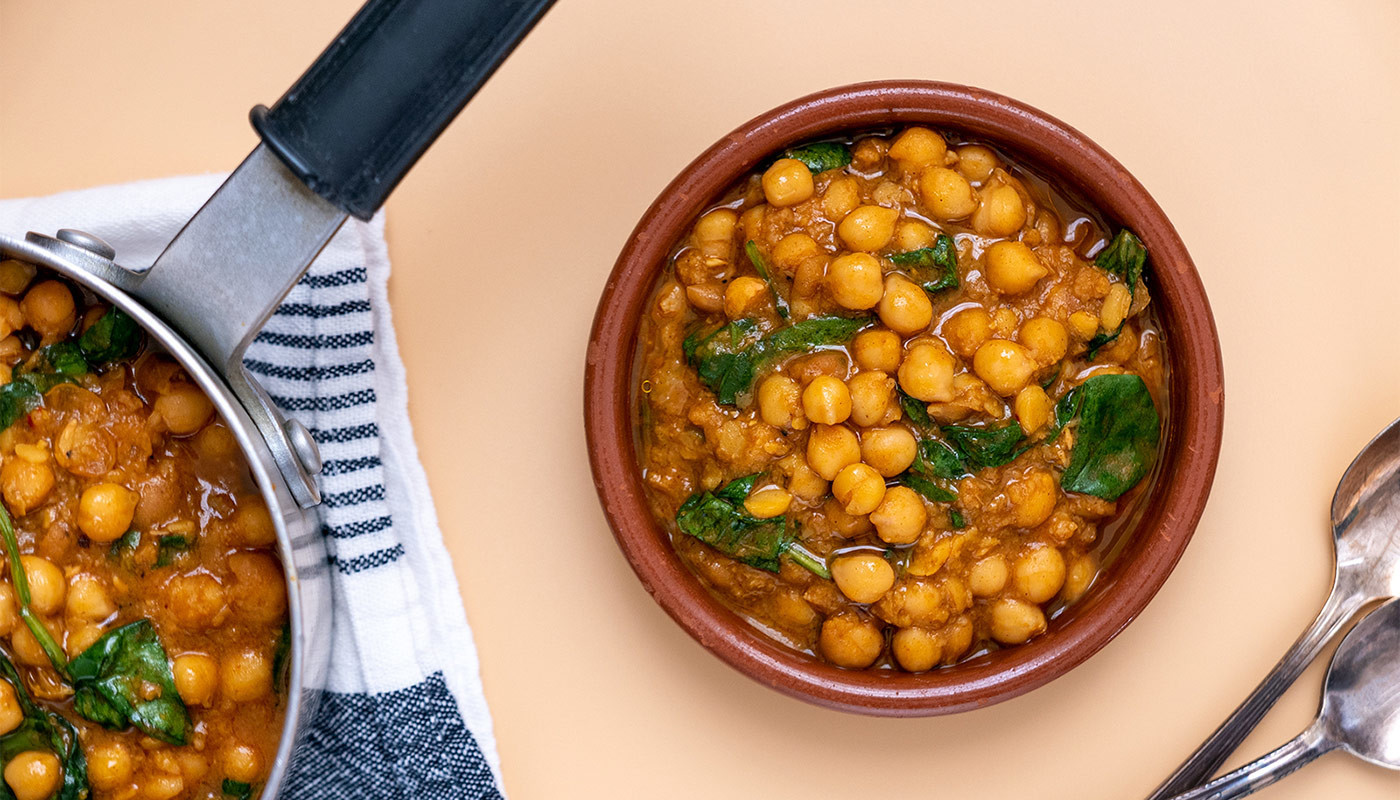 Chickpea and Spinach Stew
Spanish chickpeas, also called garbanzo beans, are petite and velvety smooth with a nutty, sweet flavor and a tender, creamy texture. Unlike conventional chickpeas from the supermarket, premium Spanish chickpeas keep their shape when cooked and never become bloated or mushy. Prepare them with a handful of pantry staples to let them shine, and serve with a Spanish Tempranillo, which will beautifully complement this dish's smokiness.
One day ahead, soak 1¼ cups of Spanish chickpeas in water with a few pinches of baking soda. The next day, drain and rinse the beans and simmer them in 3 quarts of water over low heat for a couple of hours. They're done when the chickpeas are tender, and the water barely covers the beans. Sauté 6 garlic cloves in ¼ cup of a smoked arbequina olive oil from Spain (which will give your stew a sweet smoky flavor) over medium-low heat until golden, then tear up 2 slices of bread (discard the crusts) and toss them into the pan to brown. Remove the pan from the heat, add 2 tablespoons of Spanish agridulce pimentón (paprika that is part sweet, part spicy and 100 percent flavor), 1 teaspoon of ground cumin and a pinch of La Mancha saffron (the best in the land!). Pour in 2 tablespoons of Spanish sherry vinegar and use a wooden spoon to mash everything into a thick paste. Add the paste to the chickpeas, along with a bag or clamshell pack of baby spinach, and simmer until the leaves wilt and the sauce thickens up. Season with salt and pepper to your liking.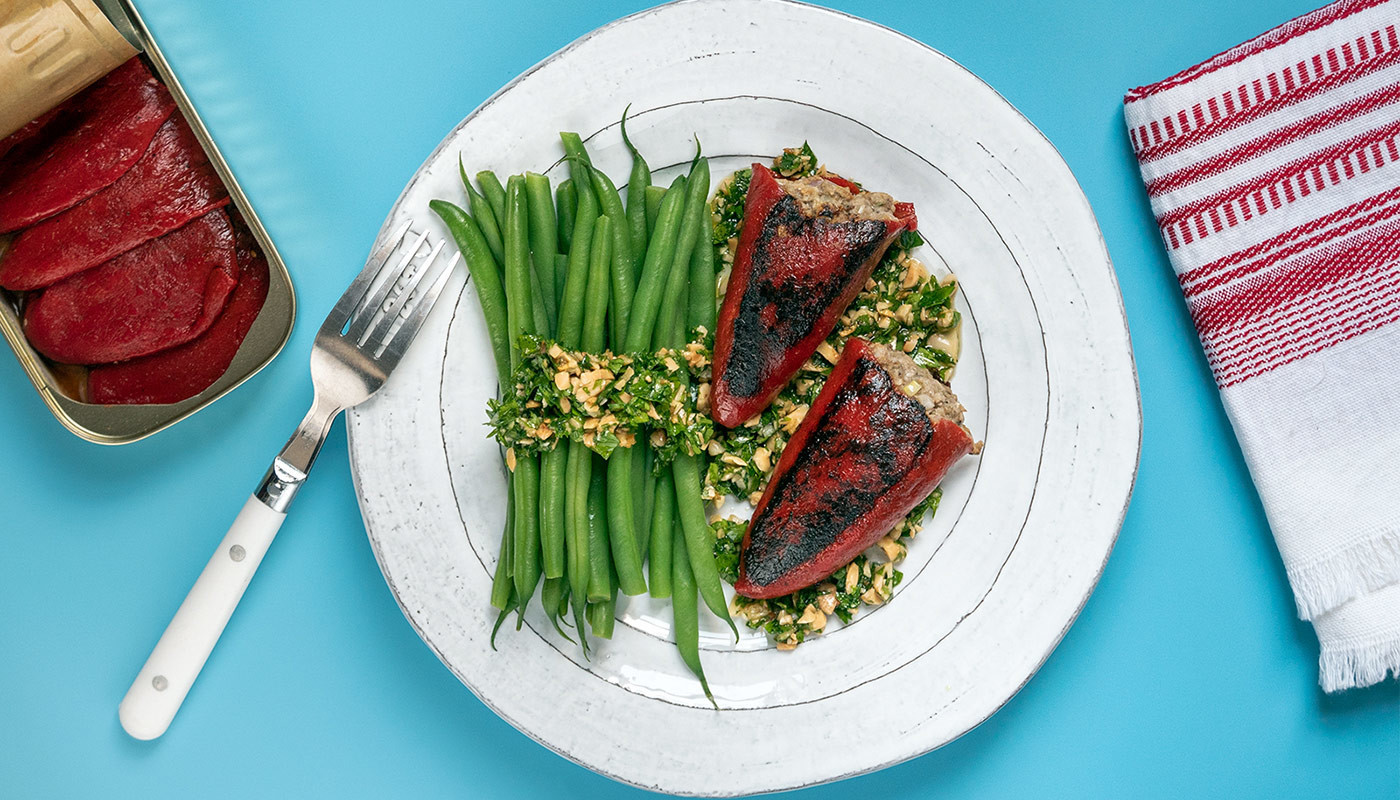 Sardine-Stuffed Piquillo Peppers
Unique and intensely flavored piquillo peppers are small sweet peppers that traditionally grow in Lodosa, Spain. They are processed with no water, fire roasted, and packed in their own juices before being shipped around the world. Stuff them with tinned sardines, a sustainable fish that is among the best sources of omega-3 fatty acids and has one of the lowest levels of mercury.
Open up a couple of tins of Spanish sardines, which are the meatiest and most flavorful variety. Transfer the fish to a mixing bowl, along with the olive oil they're soaking in, and use a fork to break them into flakes. Add ¼ cup of mayonnaise, a minced shallot, the juice of half a lemon, and 2 tablespoons of chopped parsley. Mix well and season to taste with salt and pepper. Drain a dozen jarred Lodosa piquillo peppers and blot them dry with paper towels. Spoon the sardine mixture into each pepper. Coat the bottom of a large skillet with a thin layer of Hojiblanca extra-virgin olive oil—a varietal of Spanish olive oil that's great for pan frying—and place it over medium-high heat. (A note on extra-virgin olive oil: Spain offers a range of flavors, and as with wine, these flavors are determined by the varietal, terroir and skill of the producer. Intense, green, grassier EVOOs come from varietals Picual and Hojiblanca, while EVOOs from Arbequina are milder, buttery and elegant.) Sear the stuffed peppers until nice and caramelized, about 3 minutes on each side.
The stuffed peppers can be served as is for a snack or appetizer with a glass of Spanish Garnacha, or make it a meal by adding blanched green beans and a bright almond picada. For the picada, heat up ½ cup of Hojiblanca extra-virgin olive oil and 4 minced garlic cloves in a saucepan until the garlic is fragrant and golden. Remove from the heat and add ¼ cup of roughly chopped and toasted Marcona almonds (which are softer and more buttery than California almonds), a handful of chopped parsley, and a splash of amontillado or oloroso sherry.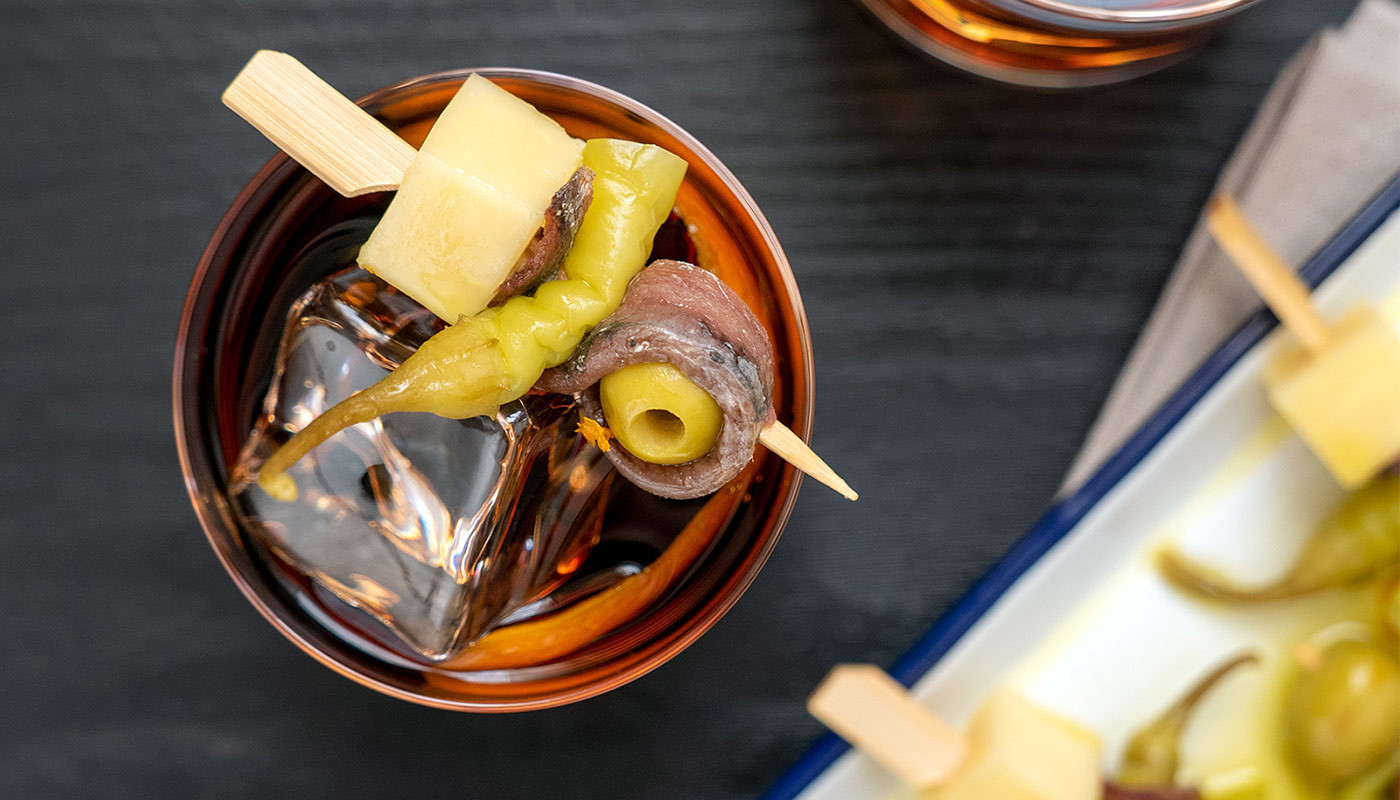 Anchovy, Pepper, Olive, and Cheese Skewers
Take a cue from the Spaniards and pair your drink with a gilda, a skewer of salty and savory bites to nibble on between sips. For the aperitif, opt for Spanish sweet red vermouth on ice, garnished with an orange peel, and topped off with seltzer. For the gilda, thread pitted Manzanilla olives, pickled Guindilla peppers, melt-in-your-mouth Cantabrian anchovies and cubes of creamy Mahon cheese on small skewers. Drizzle generously with Arbequina extra-virgin olive oil—a delicate and fruity varietal—and garnish with some orange zest.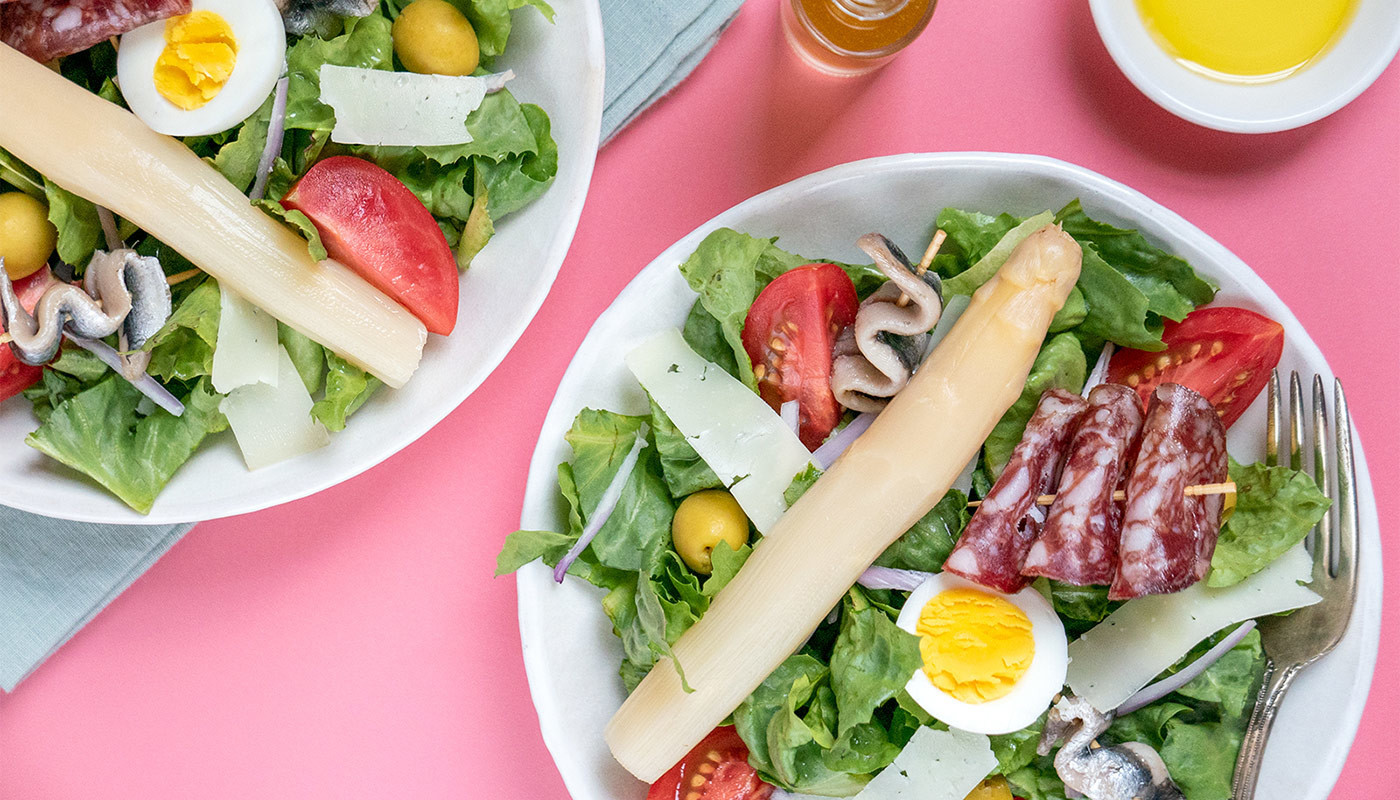 Kitchen Sink Salad with Cava Vinaigrette
Fresh salads are fundamental to the Mediterranean diet. Spanish salads are arguably the most flavorful of the bunch, thanks to toppings that pack a punch, including premium cured meats, aged cheeses and robust olive oil. Enjoy with a chilled Mencía from Spain's Ribeira Sacra region.
Tear up a head of salad greens, such as romaine or escarole, and top with sliced hard-boiled eggs, tomatoes, sweet onion, Manchego cheese, oil-packed boquerones (Spain's famous white anchovies), Spanish queen olives, and jarred or canned white asparagus spears, a Spanish delicacy from Navarre, which are peeled, trimmed, blanched, and bottled with water and salt to enjoy year round. Top it all off with Ibérico salchichón sausage from the Ibérico pig, a unique breed that lives and grazes in la Dehesa, a vast man-made forest of cork and oak trees in the west of Spain. To make the vinaigrette, whisk together ½ cup of sweet Arbequina extra-virgin olive oil—the perfect salad oil—3 tablespoons of Cava vinegar, and ½ teaspoon of salt. Drizzle over the salad.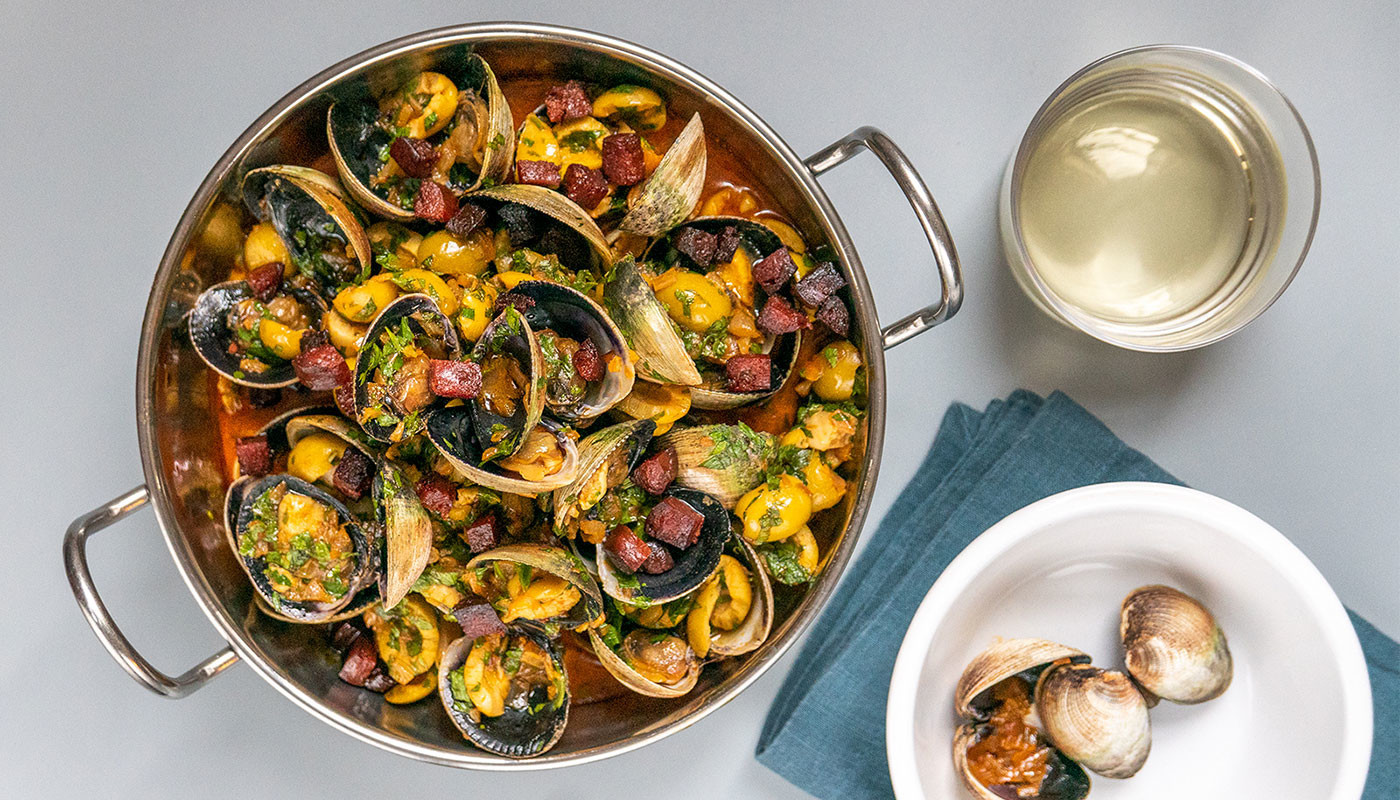 Steamed Cockles with Spanish Wine and Chorizo
Step away from the grocery store cooking wine—it's not really adding anything to your dishes. Spanish white wine is almost always integrated into steamed clams to add a fruity acidity that balances the brininess. For this recipe, use Txakoli, a bone-dry and slightly spritzy white wine with high acidity and low alcohol content.
In a large pot with a lid, heat 2 tablespoons of robust Picual extra-virgin olive oil (an ideal choice for frying that can stand up to heat) over medium-high heat. Add 7 ounces of diced Ibérico chorizo, a smoky, cured, intense sausage, and cook until it releases fat and the oil is tinted red from its spices. Remove the chorizo from the pot and set it aside. Add 2 minced shallots, 8 garlic cloves and 1 teaspoon of sweet Spanish pimentón to the pot for vibrant color. Cook until softened and fragrant, about 4 minutes. Add 1 cup of halved Gordal olives, which are some of the fattest olives you'll find. They're also known as queen olives, as the bigger the olive, the more expensive. Add 2 cups of Txakoli and scrape up all the browned bits on the bottom of the pot. Let the wine simmer for a few minutes, then add 2 pounds of scrubbed cockles (or small clams). Cover the pot, and the clams will open in about 5 to 6 minutes. Divide the clams among 4 serving bowls and leave the sauce in the pot. Bring the sauce back to a simmer and let it reduce slightly. Stir in ½ cup more olive oil, the juice of a lemon and a handful of chopped parsley. Ladle the sauce into the bowl over the clams, and scatter the chorizo over all. Serve with crusty bread and a glass of light and crispy albariño wine from the Rías Baixas region.
Shopping
You can easily find all of the high-quality Spanish products and wines mentioned in this story stateside at online and brick-and-mortar purveyors such as Caputo's, Iberico Club, Tienda, Despaña, Delicias de España, Spanish Table, La Española, Mercado L. Spain, Murray's Cheese, Igourmet, Zingermans, Whole Foods via Amazon, Wine.com, K & L Wines, Total Wine and B12 Fine Wine and Spirits. And feel free to explore Whole Foods, your local specialty store and your grocery store's specialty food section in person for Foods and Wines from Spain!
Learn more about fabulous foods and wines from Spain here.