SHARE
Warm Dandelion Greens with Roasted Garlic Dressing
From EatingWell: March/April 2008
In this springtime salad, dandelion greens (or spinach, if you prefer) are tossed with a warm roasted garlic dressing, tangy goat cheese and toasted pine nuts for melt-in-your-mouth results.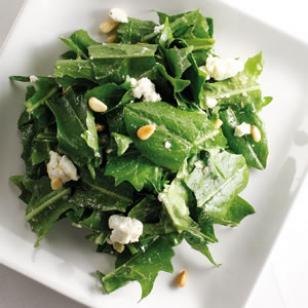 2 Reviews for Warm Dandelion Greens with Roasted Garlic Dressing
06/04/2014
Anonymous
Recommends this recipe
Excellent salad for dandelion greens
Simply perfect just the way it is!
01/10/2011
Recommends this recipe
Such a delicious salad
We made this salad this weekend using regular lettuce in place of the dandelion greens and it was so good! The dressing is really amazing and the whole combination is great. I would totally make it again.