SHARE
Vertically Grilled Whole Chicken
From EatingWell: July/August 2014
In this whole grilled chicken recipe, a vertical grilling rack allows the heat of the grill to flow inside the bird, which means it cooks from both the inside and outside. Season with just salt, pepper and olive oil or use your favorite rub or marinade. You could also use a basting sauce during the last 10 minutes of cooking for extra flavor.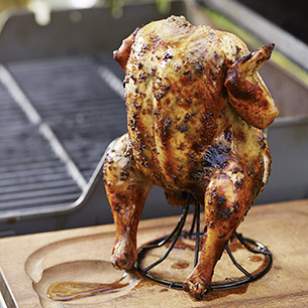 Makes: 6 servings
Serving Size: 3-4 oz.
Active Time:
Total Time:
Equipment: Vertical grilling rack
Ingredients
1 4- to 4 1/2-pound chicken
2 tablespoons extra-virgin olive oil
1 teaspoon salt
1/2 teaspoon freshly ground pepper
Preparation
Preheat a gas grill to medium or build a two-zone fire (coals on one side of the grill) in a charcoal grill and let it burn down to medium heat (about 400°F).
Remove giblets from chicken and trim any excess skin and fat. Loosen the skin over the breast and thigh meat. Rub oil, salt and pepper under the skin onto the breast meat and leg meat, and rub a little on the skin and inside the cavity.
Hold the chicken upright and fit the opening of the cavity over a vertical grilling rack.
If using a gas grill, turn off part of the grill (leaving 1 to 2 burners lit, depending on your grill). Place the chicken on the grill rack over the unlit part. Close the lid and grill until the chicken is very tender and an instant-read thermometer inserted into the thickest part of the thigh without touching bone registers 165°F, 1 1/4 to 1 1/2 hours. (If using a charcoal grill, add 10 coals after the first 30 minutes to maintain the heat.) Transfer the chicken to a clean cutting board and let rest for 10 minutes before carving.
Nutrition
Per serving: 250 calories; 12 g fat (3 g sat, 6 g mono); 98 mg cholesterol; 0 g carbohydrates; 0 g added sugars; 0 g total sugars; 32 g protein; 0 g fiber; 481 mg sodium; 270 mg potassium.
Nutrition Bonus: Zinc (15% daily value)
Carbohydrate Servings: 0
More From EatingWell
Recipe Categories