SHARE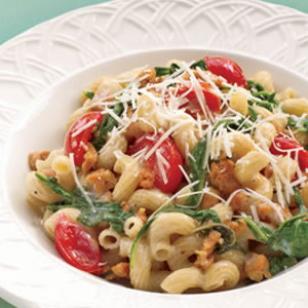 Makes: 6 servings, generous 1 1/2 cups each
Active Time:
Total Time:
Ingredients
12 ounces whole-wheat short pasta, such as shells or twists
8 ounces hot Italian turkey sausage links, removed from casings
3 cloves garlic, chopped
8 cups arugula, or baby spinach
2 cups halved cherry tomatoes
1/2 cup finely shredded Pecorino Romano, or Parmesan cheese, plus more to taste
1 teaspoon freshly ground pepper
1/4 teaspoon salt
1 tablespoon extra-virgin olive oil
Preparation
Bring a large pot of water to a boil. Cook pasta until just tender, 9 to 11 minutes, or according to package directions.
Meanwhile, cook sausage in a large nonstick skillet over medium-high heat, breaking it up into small pieces with a wooden spoon, until cooked through, about 5 minutes. Stir in garlic, arugula (or spinach) and tomatoes. Cook, stirring often, until the greens wilt and the tomatoes begin to break down, about 3 minutes. Remove from heat; cover and keep warm.
Combine 1/2 cup cheese, pepper and salt in a large bowl. Measure out 1/2 cup of the cooking liquid; drain the pasta. Whisk the cooking liquid and oil into the cheese mixture; add the pasta and toss to combine. Serve the pasta topped with the sausage mixture and an extra sprinkle of cheese, if desired.
Nutrition
Per serving: 352 calories; 9 g fat (3 g sat, 2 g mono); 26 mg cholesterol; 47 g carbohydrates; 0 g added sugars; 18 g protein; 6 g fiber; 382 mg sodium; 379 mg potassium.
Nutrition Bonus: Vitamin A (30% daily value), Fiber (26% dv), Vitamin C (20% dv), Calcium (15% dv).
Carbohydrate Servings: 2 1/2
Exchanges: 2.5 starch, 2 vegetable, 2 medium-fat meat
More From EatingWell
Recipe Categories