SHARE
Smorgastarta
From EatingWell: March/April 2007
Don't let the name intimidate you. This delicious take on the Swedish "savory sandwich torte" is sure to please family and guests alike. We've transformed this traditional smoked-fish dish into a light layered sandwich that captures the essence of Scandinavia. Make it a meal: Serve with a beet salad or steamed red potatoes.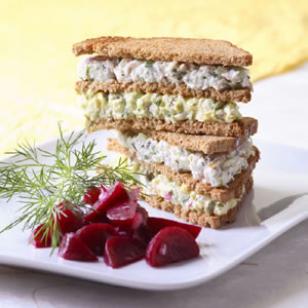 Makes: 4 servings
Active Time:
Total Time:
Ingredients
2/3 cup reduced-fat sour cream
1 teaspoon finely grated lemon zest
2 teaspoons lemon juice
6 large hard-boiled eggs, (see Kitchen Tip), finely chopped
1/4 cup chopped fresh dill
1 tablespoon finely chopped red onion
2 teaspoons finely chopped rinsed capers, (optional)
4 ounces smoked trout, skin removed, shredded
1/3 cup finely chopped celery
2 teaspoons finely chopped parsley
1/2 teaspoon caraway seeds, (optional)
Pinch of freshly ground pepper
12 thin slices whole-wheat bread, or rye bread, lightly toasted
Preparation
Mix sour cream, lemon zest and juice in a medium bowl. Combine eggs, dill, onion and capers (if using) in another medium bowl. Stir in half of the sour cream mixture.
Add trout, celery, parsley, caraway seeds (if using) and pepper to the remaining sour cream mixture.
To assemble sandwiches: Divide the egg mixture among 4 slices of bread. Top with bread, then spread with the trout mixture. Top with the remaining bread. Cut each sandwich in half and serve.
Tips & Notes
Kitchen Tip: To hard-boil eggs: Place eggs in a single layer in a saucepan; cover with water. Bring to a simmer over medium-high heat. Reduce heat to low and cook at the barest simmer for 10 minutes. Remove from heat, pour out hot water and run a constant stream of cold water over the eggs until completely cooled.
Nutrition
Per serving: 385 calories; 13 g fat (5 g sat, 5 g mono); 326 mg cholesterol; 32 g carbohydrates; 22 g protein; 4 g fiber; 726 mg sodium; 293 mg potassium.
Nutrition Bonus: Selenium (56% daily value), Folate (22% dv), Fiber (16% dv), Iron & Vitamin A (15% dv).
Carbohydrate Servings: 2
Exchanges: 2 starch, 2 1/2 medium-fat meat
More From EatingWell
Recipe Categories