SHARE
Mom's Apple Squares
From EatingWell: September/October 2009
Traditional recipes for apple squares often use plenty of trans fat-laden shortening in the crust. We replaced it with a mixture of canola oil and butter and swapped out half the all-purpose flour for whole-wheat pastry flour for a little fiber. They are best enjoyed slightly warm. Gently reheat any leftovers in the oven or toaster oven to recrisp the crust.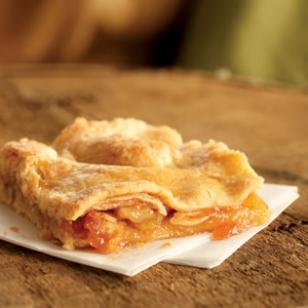 8 Reviews for Mom's Apple Squares
07/09/2010
Anonymous
Calorie count too highhh - noone can afford this number of calories just for dessert. Vickie
10/10/2009
Anonymous
This is the first recipe from EatingWell that I was not at all pleased with. The crust was heavy and dry, the apples were just okay. No stellar flavors here. I cook and bake nearly everyday for various people in the neighborhood, many of them in their mid to late 20's....that being said, I NEVER have to throw out food...this sat on the counter for 7 days and was still only 1/2 gone when I tossed it. Unfortunate.
10/01/2009
Anonymous
this is my new favorite crust recipe. although, i did modify it a tiny bit:
i didn't use wheat flour, just 2 1/2 cups of regular. also, i didn't refrigerate it before use, and it was just fine. i also didn't line the pan with parchment paper. nothing stuck and it came out just fine.
my daughter (2 years old) loved this recipe because she could pick it up easily like a cookie. my husband thought it needed more apple, but i thought it was just lovely the way it was.
i bottle my own apple pie mix in the fall, so i just sprayed the pan with cooking spray, lined it with this crust, dumped a quart of apple pie filling that i made, then topped with the second crust.
after spreading the egg white, i sprinkled with a mix of cinnamon/sugar.
DELICIOUS!!!