SHARE
Mediterranean Picnic Snack
From EatingWell: October/November 2005
Sweet tomatoes, salty olives and tangy cheese are a perfect afternoon pick-me-up.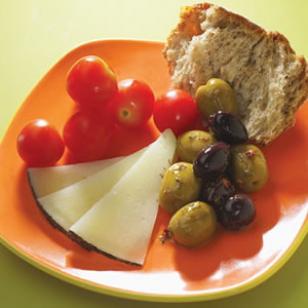 Makes: 1 serving
Active Time:
Total Time:
Ingredients
1 slice crusty whole-wheat bread, cut into bite-size pieces
10 cherry tomatoes
1/4 ounce sliced aged cheese
6 oil-cured olives
You Might Also Like
Preparation
Combine bread pieces, tomatoes, cheese and olives in a portable container.
Nutrition
Per serving: 201 calories; 10 g fat (3 g sat, 1 g mono); 9 mg cholesterol; 23 g carbohydrates; 7 g protein; 4 g fiber; 693 mg sodium; 474 mg potassium.
Nutrition Bonus: Protein, fiber, vitamin C, potassium, calcium.
Carbohydrate Servings: 1 1/2
Exchanges: 1 starch, 1 vegetable, 2 fat
More From EatingWell
Recipe Categories