SHARE
All-American BBQ Chicken Thighs
From EatingWell: July/August 2014
In this healthy chicken thigh recipe, bottled barbecue sauce—often loaded with sodium and high-fructose corn syrup—is replaced with a homemade barbecue sauce recipe. Use the barbecue sauce to baste the chicken breast while cooking—but if you want to also serve the barbecue sauce at the table, separate some before grilling to avoid cross-contamination.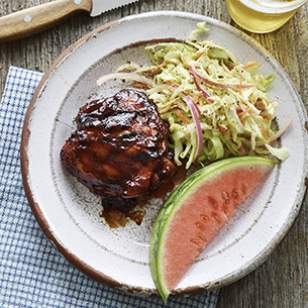 Makes: 8 servings
Serving Size: 3 oz. chicken & 2 Tbsp. sauce
Active Time:
Total Time:
Ingredients
Barbecue Sauce
3/4 cup ketchup
3/4 cup beer, preferably porter
1/2 cup molasses
2 tablespoons orange juice
2 tablespoons cider vinegar
1 tablespoon Worcestershire sauce
2 teaspoons Dijon mustard
1/2 teaspoon onion powder
2 teaspoons hot sauce, or to taste
Chicken
8 large or 16 small bone-in chicken thighs (4 to 4 1/2 pounds), skin removed and trimmed
2 tablespoons extra-virgin olive oil
1 1/2 teaspoons salt
1/2 teaspoon freshly ground pepper
Preparation
To prepare barbecue sauce: Combine ketchup, beer, molasses, orange juice, vinegar, Worcestershire, mustard and onion powder in a medium heavy saucepan; bring to a simmer over medium-high heat, stirring. Reduce heat to maintain a simmer and cook, stirring frequently, until reduced to about 1 1/2 cups, 20 to 25 minutes. Stir in hot sauce.
To prepare chicken: Preheat a gas grill to medium or build a fire in a charcoal grill and let it burn down to medium heat (about 400°F).
Combine chicken with oil in a large bowl. Season with salt and pepper.
Oil the grill rack (see Tip). Grill the chicken, with the lid closed, until lightly browned on the bottom, 10 to 12 minutes. Turn the chicken over, close the lid and grill for 10 to 12 minutes more. Brush the top of the chicken with about 1/2 cup of the barbecue sauce and grill for about 2 minutes. Turn over, brush the second side with another 1/2 cup of the sauce and continue grilling until an instant-read thermometer inserted into the thickest portion of the chicken registers 165°F, 2 to 4 minutes more. Serve the chicken with more barbecue sauce on the side, if desired.
Tips & Notes
Make Ahead Tip: Cover and refrigerate barbecue sauce for up to 1 week.
Once the grill is heated, oil a folded paper towel, hold it with tongs and rub it over the hot rack right before placing the chicken on the grill.
Nutrition
Per serving: 288 calories; 12 g fat (3 g sat, 6 g mono); 144 mg cholesterol; 16 g carbohydrates; 13 g added sugars; 14 g total sugars; 26 g protein; 0 g fiber; 734 mg sodium; 570 mg potassium.
Nutrition Bonus: Potassium (16% daily value), Magnesium (15% dv)
Carbohydrate Servings: 1
More From EatingWell
Recipe Categories