SHARE
Chestnut Bread
From EatingWell: September/October 2014
This authentic Tuscan chestnut bread recipe, castagnaccio—not exactly bread and not sweet enough to be considered cake—is in a category by itself. Serve this Italian delicacy on a cheese platter or as part of an antipasti spread.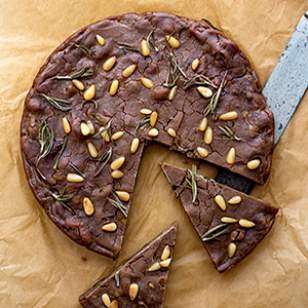 Makes: 8 servings
Serving Size: 1 slice
Active Time:
Total Time:
Ingredients
2/3 cup raisins
1/2 cup warm water or Vin Santo dessert wine
1 2/3 cup chestnut flour (see Tip)
1 cup water, plus more as needed
2 tablespoons extra-virgin olive oil, divided
2/3 cup walnut halves
1 tablespoon pine nuts
1 tablespoon fresh rosemary
Preparation
Preheat oven to 400°F.
Cover raisins with warm water (or wine) in a bowl and let soak.
Meanwhile, sift chestnut flour with a flour sifter or push it through a fine sieve into a medium bowl—this can be harder than it sounds, because the flour typically has many hard lumps. Add 1 cup water and whisk until combined. Stir in 1 tablespoon oil. Let the batter rest for 15 minutes.
After 15 minutes, the consistency of the batter should be similar to pancake batter; if it's too thick, add another tablespoon or two of water to thin it a little bit. Drain the raisins and stir into the batter along with walnuts
Place the remaining 1 tablespoon oil in an 8-inch square baking pan and set in the oven for 2 to 3 minutes to heat the oil. Tilt the pan so the oil coats the bottom and sides. Pour in the batter and smooth to the edges (some of the oil will be pooling around the edges of the pan). Sprinkle with pine nuts and rosemary.
Bake until dry on top and the edges are browned, 25 to 30 minutes. Let cool on a wire rack for 15 minutes. Loosen the sides with a knife before turning the bread out of the pan or lifting it out with a large spatula. Serve warm or at room temperature.
Tips & Notes
Make Ahead Tip: Store airtight at room temperature for up to 2 days; reheat in a low oven, if desired.
Chestnut flour—literally ground dried chestnuts—is a naturally gluten-free flour with a slightly sweet, smoky flavor. Try it in place of some of the all-purpose flour in savory breads or pancakes and/or as part of a gluten-free flour blend. Look for it at an Italian grocer, in some natural-foods markets or online at amazon.com.
Nutrition
Per serving: 204 calories; 11 g fat (1 g sat, 4 g mono); 0 mg cholesterol; 27 g carbohydrates; 0 g added sugars; 3 g protein; 3 g fiber; 8 mg sodium; 136 mg potassium.
Carbohydrate Servings: 2
Exchanges: 1 starch, 1/2 fruit, 1 fat
More From EatingWell
Recipe Categories