SHARE
Bananas in Brown Sugar-Rum Sauce
From EatingWell: EatingWell Serves Two
Bananas cooked in a delectable brown-sugar-rum sauce make for a quick yet impressive dessert.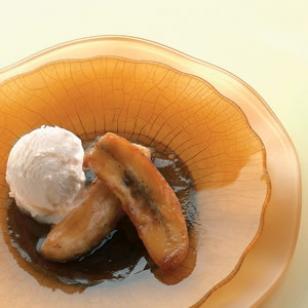 Makes: 2 servings
Active Time:
Total Time:
Ingredients
2 tablespoons brown sugar
1 teaspoon butter
1/2 teaspoon canola oil
2 tablespoons dark rum
1 teaspoon lime juice
1/8 teaspoon ground cinnamon
2 small bananas, quartered
1/4 cup low-fat vanilla yogurt
Preparation
Stir brown sugar, butter and oil in a medium skillet over medium heat until bubbling. Add rum, lime juice and cinnamon and cook until slightly thickened. Add bananas and cook, stirring, until tender. Divide between 2 bowls and top with a dollop of low-fat vanilla yogurt.
Nutrition
Per serving: 208 calories; 3 g fat (2 g sat, 1 g mono); 5 mg cholesterol; 53 g carbohydrates; 4 g protein; 3 g fiber; 41 mg sodium; 399 mg potassium.
Carbohydrate Servings: 2 1/2
Exchanges: 1 1/2 fruit, 2 other carbohydrate, 1/2 fat
More From EatingWell
Recipe Categories