SHARE
Baked Vegetable Soup
From EatingWell: September/October 2014
Originally prepared in the wood-burning hearths of Italian homes, this peasant-style healthy vegetable soup recipe is simple to make in a modern oven. Brimming with artichokes, mushrooms, zucchini and leeks, this easy soup heats up the house as it becomes the perfect warming meal.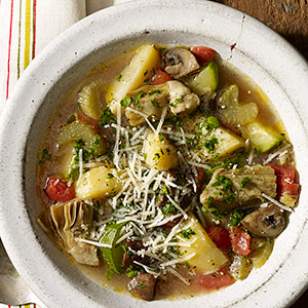 Makes: 8 servings
Serving Size: about 1 3/4 cups
Active Time:
Total Time:
Ingredients
5 tablespoons extra-virgin olive oil
1 pound Yukon Gold potatoes, halved and sliced 1/4 inch thick
1 1/2 teaspoons salt, divided
2 medium zucchini, halved and sliced 1/2 inch thick
2 medium leeks, white and light green parts only, thinly sliced (see Tip)
4 medium stalks celery, thinly sliced
10 ounces cremini (baby bella) mushrooms, quartered
4 cups frozen artichoke hearts (two 9-ounce boxes), thawed, or 10 fresh artichoke hearts, quartered
1/4 cup chopped fresh parsley, plus more for garnish
1 15-ounce can no-salt-added diced tomatoes, with their juice
1 2-inch piece Parmesan cheese rind, plus finely shredded Parmesan for garnish
6 cups water
1/2 teaspoon ground pepper
Preparation
Preheat oven to 350°F.
Pour oil into a large ovenproof pot (about 6-quart) and arrange potato slices in an even layer over the oil. Sprinkle with 3/4 teaspoon salt. Layer in zucchini, leeks, celery, mushrooms, artichoke hearts and 1/4 cup parsley; sprinkle with the remaining 3/4 teaspoon salt. Pour tomatoes over the vegetables and nestle Parmesan rind into them. Add water (the vegetables will not be completely submerged), cover and bring to a boil over high heat.
Once boiling, transfer the pot to the oven and bake, covered, until the vegetables are tender, but still firm, 1 to 1 1/4 hours. Season with pepper and serve garnished with parsley and Parmesan, if desired.
Tips & Notes
Clean leeks well to be sure they're grit-free: After slicing, place in a bowl filled with water and swish around to release any sand or soil trapped between the layers. Scoop the leeks out of the bowl with a slotted spoon, leaving any sand or soil behind in the bowl. Drain well. Repeat as needed.
Nutrition
Per serving: 203 calories; 10 g fat (1 g sat, 7 g mono); 1 mg cholesterol; 25 g carbohydrates; 0 g added sugars; 6 g total sugars; 5 g protein; 6 g fiber; 529 mg sodium; 815 mg potassium.
Nutrition Bonus: Vitamin C (52% daily value), Folate (37% dv), Potassium (23% dv), Vitamin A (22% dv), Magnesium (15% dv)
Carbohydrate Servings: 1 1/2
Exchanges: 1/2 starch, 3 vegetable, 2 fat
More From EatingWell
Recipe Categories