SHARE
Apple, Carrot & Cabbage Chopped Salad
From EatingWell: May/June 2014
Orange blossom water adds an exotic citrus essence to the dressing in this spiced carrot and cabbage salad recipe. If you prefer, you can substitute orange juice, which will give you a similar flavor without the delicate perfumed notes. Look for orange blossom water in natural-foods stores and Middle Eastern grocers.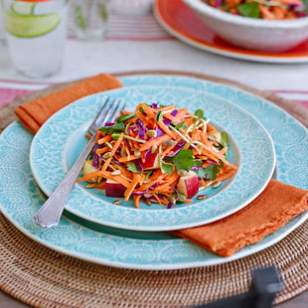 Makes: 6 servings
Serving Size: about 1 1/3 cups
Active Time:
Total Time:
Ingredients
2 1/2 tablespoons extra-virgin olive oil
1 tablespoon orange blossom water or orange juice
2 teaspoons white-wine vinegar
1/2 teaspoon kosher salt
1/4 teaspoon ground cinnamon
1/4 teaspoon ground cumin
3 cups shredded carrots (3-4 medium)
1 cup chopped red cabbage
1 large crisp red apple, chopped
1 cup sunflower sprouts
1/2 cup fresh cilantro leaves
3 tablespoons sunflower seeds, lightly toasted
Freshly ground pepper to taste
Lime wedges for serving
Preparation
Whisk oil, orange blossom water (or orange juice), vinegar, salt, cinnamon and cumin in a large bowl.
Add carrots, cabbage, apple, sunflower sprouts, cilantro and sunflower seeds; toss to combine with the dressing. Season with pepper. Serve with lime wedges, if desired.
Nutrition
Per serving: 124 calories; 8 g fat (1 g sat, 5 g mono); 0 mg cholesterol; 13 g carbohydrates; 0 g added sugars; 7 g total sugars; 2 g protein; 3 g fiber; 137 mg sodium; 305 mg potassium.
Nutrition Bonus: Vitamin A (189% daily value), Vitamin C (23% dv)
Carbohydrate Servings: 1
Exchanges: 1 vegetable, 1 1/2 fat
More From EatingWell
Recipe Categories