This ad will not print with your recipe
Artichoke-Potato Gratin
This gratin dish has all of the craveable flavors of artichoke dip in a more sophisticated form. It makes a terrific side with any roasted meats or poultry.
Source: EatingWell Magazine, December 2019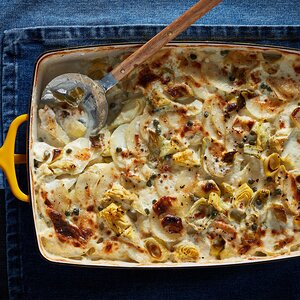 Nutrition Facts
Per Serving:
209 calories; total fat 12.3g 19% DV; saturated fat 7.3g; cholesterol 34mg 11% DV; sodium 286mg 11% DV; potassium 423mg 12% DV; carbohydrates 18.6g 6% DV; fiber 2.3g 9% DV; sugar 3g; protein 7.1g 14% DV; exchange other carbs 1; vitamin a iu 738IU; vitamin c 6mg; folate 46mcg; calcium 187mg; iron 1mg; magnesium 35mg.
Exchanges:
1 1/2 fat, 1 starch, 1/2 high-fat protein, 1/2 vegetable
This ad will not print with your recipe
Ads will not print with your recipe
Advertisement