This ad will not print with your recipe
Cocoa Almond French Toast
Your day will be off to a sweet start with this chocolate almond-coated French toast, topped with chocolate syrup and fresh raspberries. This quick, delicious breakfast for two is ready in just 10 minutes.
Source: Diabetic Living Magazine
By Diabetic Living Magazine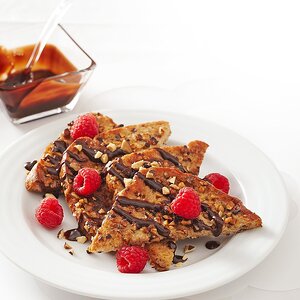 Tips
Tip: If you do not have a griddle, coat a large skillet with nonstick cooking spray; continue as directed, except cook half of the bread slices at a time.
Nutrition Facts
Serving Size:
2 slices bread, 1 tablespoon syrup, and 2 tablespoons raspberries
Per Serving:
250 calories; 11.7 g total fat; 0.9 g saturated fat; 391 mg sodium. 285 mg potassium; 28.6 g carbohydrates; 7.9 g fiber; 4 g sugar; 15 g protein; 223 IU vitamin a iu; 4 mg vitamin c; 10 mcg folate; 237 mg calcium; 4 mg iron; 11 mg magnesium;
Exchanges:
1 1/2 lean protein, 1 1/2 starch, 1 fat, 1/2 fruit
This ad will not print with your recipe
Ads will not print with your recipe
Advertisement