This ad will not print with your recipe
Celery Root Colcannon
Traditional colcannon is an Irish dish made with potatoes and cabbage. In this healthy colcannon recipe, we swap flavor-packed celery root for the potatoes and use less butter than in typical recipes to save more than 200 calories per serving.
Source: EatingWell Magazine, March/April 2017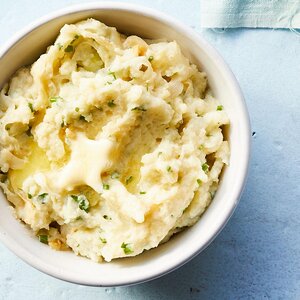 Tips
Tips: Find celery root (aka celeriac), a celery-flavored root vegetable with a cooked texture similar to potatoes, in the refrigerated produce section near other root vegetables. To peel it, trim off the root and stem end, then remove the thick skin with a knife, or use a vegetable peeler and peel around the root several times to remove the fibrous skin. Try it in soups, roasted or mashed like potatoes.
Nutrition Facts
Serving Size:
2/3 cup each
Per Serving:
167 calories; total fat 10.3g 16% DV; saturated fat 4.6g; cholesterol 18mg 6% DV; sodium 330mg 13% DV; potassium 420mg 12% DV; carbohydrates 16.3g 5% DV; fiber 3.8g 15% DV; sugar 5g; protein 3.8g 8% DV; exchange other carbs 1; vitamin a iu 269IU; niacin equivalents 2mg; vitamin b6mg; vitamin c 29mg; folate 12mcg; calcium 110mg; iron 1mg; magnesium 29mg; thiaminmg.
Exchanges:
3 vegetable, 2 fat
This ad will not print with your recipe
Ads will not print with your recipe
Advertisement