This ad will not print with your recipe
Borscht with Beef
Even people who think they don't like beets love this vibrantly colored, vegetable-packed borscht soup recipe, inspired by the legendary borscht soup served at New York's Russian Tea Room. Plenty of mushrooms, cabbage and carrots along with a judicious amount of beef make this healthy borscht recipe special.
Source: EatingWell Magazine, Soup Cookbook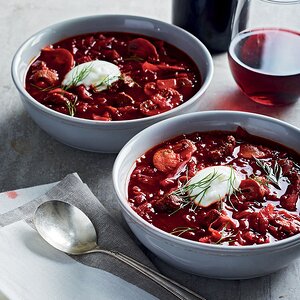 Tips
To make ahead: Refrigerate for up to 3 days; garnish just before serving.
Nutrition Facts
Per Serving:
149 calories; total fat 5.6g 9% DV; saturated fat 1.8g; cholesterol 24mg 8% DV; sodium 434mg 17% DV; potassium 657mg 18% DV; carbohydrates 12.7g 4% DV; fiber 3.1g 12% DV; sugar 7g; protein 9.9g 20% DV; exchange other carbs 1; vitamin a iu 2592IU; vitamin c 13mg; folate 70mcg; calcium 54mg; iron 1mg; magnesium 31mg; thiaminmg.
Exchanges:
2 vegetable, 1 fat, 1 lean protein
This ad will not print with your recipe
Ads will not print with your recipe
Advertisement