This ad will not print with your recipe
Roasted Pheasant with Wheat Berry Salad
Pheasant is a small bird with a delicate flavor that's richer than chicken. We roast apples and shallots in the pan along with the bird, then toss them with cooked wheat berries for a delicious whole-grain side.
Source: EatingWell Magazine, November/December 2008
By EatingWell Test Kitchen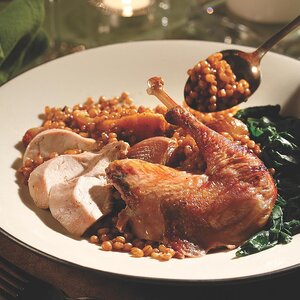 Tips
Ingredient Note: Wheat berries are the whole, unprocessed grains of wheat. Find them in natural-foods markets and online at kingarthurflour.com.
Sources: Find pheasant in well-stocked supermarkets, specialty butchers or at dartagnan.com.
Nutrition Facts
Serving Size:
3 ounces pheasant & 1 1/4 cups salad
Per Serving:
533 calories; 8.4 g total fat; 1.8 g saturated fat; 75 mg cholesterol; 633 mg sodium. 659 mg potassium; 80.3 g carbohydrates; 9.4 g fiber; 24 g sugar; 36.5 g protein; 1179 IU vitamin a iu; 19 mg vitamin c; 34 mcg folate; 76 mg calcium; 5 mg iron; 44 mg magnesium;
Exchanges:
3 starch, 2 fruit, 4 medium-fat meat
This ad will not print with your recipe
Ads will not print with your recipe
Advertisement