This ad will not print with your recipe
Pina Colada Yogurt Parfait
Take a trip to the tropics with our piña colada inspired parfait. It even makes a great breakfast when you need a sunny start to your day.
By EatingWell Test Kitchen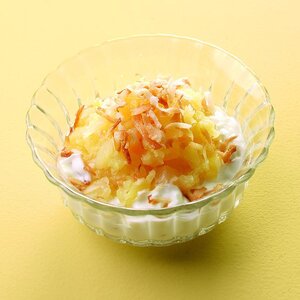 Tips
Tip: To toast coconut: Place coconut in a small dry skillet and cook, stirring often, until golden, about 5 minutes or spread in a shallow baking dish and bake at 350°F until light golden and fragrant, 5 to 10 minutes.
Nutrition Facts
Per Serving:
161 calories; 4.3 g total fat; 3.5 g saturated fat; 4 mg cholesterol; 57 mg sodium. 327 mg potassium; 27.6 g carbohydrates; 2.1 g fiber; 26 g sugar; 4.9 g protein; 84 IU vitamin a iu; 10 mg vitamin c; 14 mcg folate; 157 mg calcium; 1 mg iron; 32 mg magnesium; 7 g added sugar;
Exchanges:
pineapple: 1/2 low-fat milk, 1 fruit oranges: 1/2 low-fat milk, 1 fruit
This ad will not print with your recipe
Ads will not print with your recipe
Advertisement