This ad will not print with your recipe
Roasted Broccoli with Lemon
Maybe you've never considered cooking broccoli this way, but roasting yields surprisingly good results. The heat concentrates the flavors and caramelizes the natural sugars. A touch of olive oil gives it a crispy, delicious finish.
Source: EatingWell Magazine, Winter 2004
By EatingWell Test Kitchen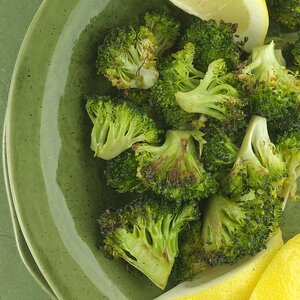 Tips
Cut Down on Dishes: A rimmed baking sheet is great for everything from roasting to catching accidental drips and spills. For effortless cleanup and to keep your baking sheets in tip-top shape, line them with a layer of foil before each use.
Nutrition Facts
Per Serving:
54 calories; 3.8 g total fat; 0.5 g saturated fat; 165 mg sodium. 241 mg potassium; 4.4 g carbohydrates; 2.3 g fiber; 2.2 g protein; 2132 IU vitamin a iu; 70 mg vitamin c; 51 mcg folate; 36 mg calcium; 1 mg iron; 18 mg magnesium;
Exchanges:
1 vegetable, 1 fat
This ad will not print with your recipe
Ads will not print with your recipe
Advertisement