This ad will not print with your recipe
Deviled Eggs
Try experimenting with this basic recipe by adding your favorite mix-ins--like pickle relish, finely chopped red bell pepper or salsa--to the yolk mixture.
Source: EatingWell Magazine, July/August 1996
By Patsy Jamieson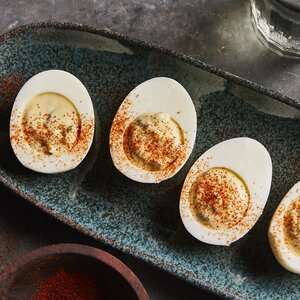 Tips
Tip: To hard-boil eggs: Place eggs in a single layer in a saucepan; cover with water. Bring to a simmer over medium-high heat. Reduce heat to low and cook at the barest simmer for 10 minutes. Remove from heat, pour out hot water and run a constant stream of cold water over the eggs until completely cooled.
This ad will not print with your recipe
Ads will not print with your recipe
Advertisement