Sensational Make-at-Home Sangria
While I always have a decent selection of craft beers and a few bottles of wine in my fridge for the times when friends drop by for an impromptu summertime shindig, I've decided to make this The Summer of Sangria.
Don't Miss: 5 Summer Party Wines for $10 or Less [8]
I've never been much of a sangria fan. I've found most restaurant variations to be sickeningly sweet, so it wasn't my first choice for summer drinking. What changed my mind? These killer sangria recipes developed in the EatingWell Test Kitchen. They skipped the sugar altogether and used zesty wines, flavorful liquors and tons of fresh fruit to make these sangria recipes a delight to all the senses. Worthy of a summer-long celebration of the original wine cooler? Absolutely. So pull out the ice cubes, stir together your ingredients in a pretty pitcher and enjoy!
Don't Miss: 3 Ways to Break Your Sugar Habit [9]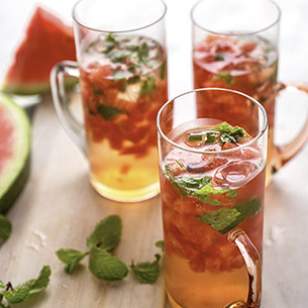 [10] Watermelon Rosé Sangria [10]
Combine & chill:
3/4 cup elderflower liqueur, such as St. Germain
3 cups cubed watermelon
1/3 cup coarsely chopped fresh mint leaves

Before serving, stir in 1 (750-mL) bottle sparkling rosé, chilled
[11] Plum & Cider Sangria [11]
Combine & chill:
2 (12-ounce) bottles hard apple cider
3/4 cup Calvados or other apple brandy
1 apple, chopped
1 firm ripe plum, sliced

Before serving, stir in 1-1/2 cups chilled plain seltzer
[12] Berry Sangria [12]
Combine & chill:
1 (750-mL) bottle Vinho Verde
1 cup Sauternes or ice wine
1 cup blueberries
1 cup sliced strawberries
1 star fruit, sliced

Before serving, stir in 1 cup chilled plain seltzer
[13] Cucumber & Melon White Sangria [13]
Combine & chill:
1 (750-mL) bottle Gewürztraminer, dry Riesling or Sauvignon Blanc
1/2 cup dry vermouth
2 cups diced honeydew melon
1 cup diced cucumber
1/2 cup torn fresh basil leaves

Before serving, stir in 1 cup chilled plain seltzer
Each recipe serves 6 (about 1 cup each).
What is your favorite fruit to put in sangria? Tell us what you think below.
TAGS: Carolyn Malcoun [2], Food Blog [14], Entertaining [15], Holidays [16]
A graduate of New England Culinary Institute and University of Wisconsin with a degree in journalism, Carolyn pairs her long-standing love for food with writing as EatingWell's senior food editor. Carolyn's culinary interest is rooted in her childhood; she grew up making thousands of Christmas cookies every year with her mom and picking leaves off bunches of parsley to make tabbouleh with her dad. Away from the kitchen, Carolyn enjoys seeking out rare craft beers and exploring the outdoors with her husband, young daughter and dog.
More Summer Party Ideas
Tell us what you think: