(Page 4)
SHARE
Low-Calorie Veggie-Packed Soups
Slimming soups full of vegetables to help you lose weight.
Vegetables are one of the healthiest foods you can eat, especially if you're trying to lose weight. They are low in calories, loaded with nutrients and full of fiber which helps keep you full. Soup is also a fantastic food for weight-loss. It has lots of liquid, which helps fill you up and keep you satisfied without a lot of calories. These recipes fill you up by being packed with veggies and liquid (consider them a dynamic weight-loss duo) and taste delicious. Enjoy Veggistrone, try Quinoa Peanut Soup and slurp up Italian Wedding Soup and more low-cal soups. Download a Free Top 10 Best Diet Recipes Cookbook!
More Veggie-Packed Recipes
Whole-Grain Vegan Recipes
Enjoy a variety of delicious whole grains with these healthy vegan recipes.
Whole grains should play an important role in any diet. They're full of heart-healthy fiber and contain vitamins and nutrients you won't find in refined grains. In these delicious, vegan recipes the whole grains shine. Try oats in our granola recipes, brown rice in stir-fries and quinoa in casseroles. These healthy recipes will inspire you to try all kinds of whole grains for breakfast, lunch and dinner. Download a FREE Vegan Recipes Cookbook!
More Healthy Whole-Grain Recipes
Vegan Vegetable Side Dishes
Vegetables star on the side in these delicious and healthy vegan recipes.
Even vegans need to make sure they are eating enough healthy vegetables. Veggies are high in fiber, which can help you lose weight, and vitamins. To ensure that no one goes without their fill of veggies, we jam-packed these side dishes, soups, salads and appetizers with vegetables and made them so tasty vegans and non-vegans alike will enjoy them. Download a FREE Vegan Recipes Cookbook!
More Healthy Recipes with Vegetables
High-Fiber Vegan Recipes
These delicious recipes for vegan pizza and more are high in heart-healthy and filling fiber.
Fiber is found in fruits, veggies, legumes and whole grains. And while it's good for your heart and can help you slim down, most people don't get enough. These vegan recipes for casseroles, salads, soups and more all have at least 5 grams of fiber per serving to help you get the recommended daily amount of 25-35 grams. Download a FREE Vegan Recipes Cookbook!
More Healthy High-Fiber Recipes
November 7, 2013 - 9:11am
A bowl of "loaded" baked potato soup on a restaurant menu is a load of temptation—you know you want it, but you also know where that "load" of cheese, bacon and sour cream topping is going to end up: on your hips. The cooks in the EatingWell Test Kitchen kept the tempting name when they created this Loaded Baked Potato Soup, but included just enough of the signature ingredients to give it the flavor you love without all the fat.
Community Question:
How would you personalize this soup with your favorite baked potato toppings?
Healthy Vegan Breakfast Recipes
Start your day off right with these healthy vegan breakfasts.
Whether you're craving savory or sweet, these nutritious breakfasts. Many of these vegan recipes are loaded with fruits and even vegetables to help you eat more produce. Download a FREE Vegan Recipes Cookbook!
More Healthy Breakfast Recipes:
November 19, 2013 - 10:16am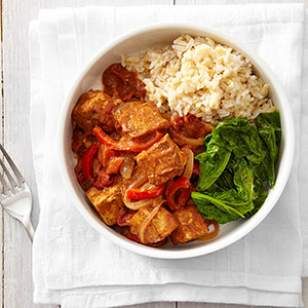 What are you in the mood for tonight—Italian? Mexican? Chinese? Hold the phone! Takeout is tempting, but instead of ordering out (again) you can make a tastier, healthier dinner that will satisfy your craving and be ready in the same amount of time it would take to find the restaurant menu, decide what everyone wants, dial, order and wait.
October 30, 2013 - 10:40am
When I sent an office email to gather staff picks from the September/October issue of EatingWell, I was hoping at least two or three of my busy colleagues would take a minute to write back. But it turned out the issue was so enthusiastically received that I have 9 favorite recipes to share with you.
Community Question:
What's your favorite recipe from the September/October issue so far?
Homemade Salad Dressing and Vinaigrette Recipes
Say Goodbye to Boring Salads With These Healthy Salad Dressing Recipes
An outstanding salad dressing can take your salad from ho-hum to totally craveable. Our healthy homemade salad dressing recipes and vinaigrette recipes use simple ingredients like extra-virgin olive oil, balsamic vinegar, and fresh herbs and produce to create dressings packed with fresh, healthy flavors. Use a blender or food processor to whip one up- these tools let you incorporate all sorts of produce, from tomatoes and shallots to ginger and raspberries. And pureeing forms a silky emulsion, which means your dressings won't separate. Try one of these salad dressing recipes and vinaigrette recipes to make an irresistible salad!
Brierley Wright, M.S., R.D.
Don't be fooled by the book title. The FastDiet (Atria, 2013), by Dr. Michael Mosley and Mimi Spencer, doesn't call for a total fast—or eating quickly. Also known as the 5:2 diet, it has you adopt a lifelong pattern of fasting two days a week and being "gloriously free from calorie counting" for five days. On those two fasting days, you can eat 500 or 600 calories—for women and men, respectively.