(Page 10)
SHARE
Healthy Vegan Breakfast Recipes
Start your day off right with these healthy vegan breakfasts.
Whether you're craving savory or sweet, these nutritious breakfasts. Many of these vegan recipes are loaded with fruits and even vegetables to help you eat more produce. Download a FREE Vegan Recipes Cookbook!
More Healthy Breakfast Recipes:
November 19, 2013 - 10:16am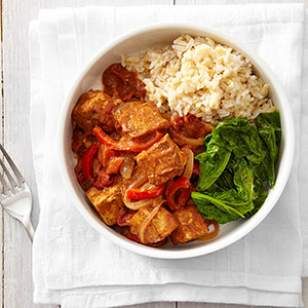 What are you in the mood for tonight—Italian? Mexican? Chinese? Hold the phone! Takeout is tempting, but instead of ordering out (again) you can make a tastier, healthier dinner that will satisfy your craving and be ready in the same amount of time it would take to find the restaurant menu, decide what everyone wants, dial, order and wait.
October 30, 2013 - 10:40am
When I sent an office email to gather staff picks from the September/October issue of EatingWell, I was hoping at least two or three of my busy colleagues would take a minute to write back. But it turned out the issue was so enthusiastically received that I have 9 favorite recipes to share with you.
Community Question:
What's your favorite recipe from the September/October issue so far?
Homemade Salad Dressing and Vinaigrette Recipes
Say Goodbye to Boring Salads With These Healthy Salad Dressing Recipes
An outstanding salad dressing can take your salad from ho-hum to totally craveable. Our healthy homemade salad dressing recipes and vinaigrette recipes use simple ingredients like extra-virgin olive oil, balsamic vinegar, and fresh herbs and produce to create dressings packed with fresh, healthy flavors. Use a blender or food processor to whip one up- these tools let you incorporate all sorts of produce, from tomatoes and shallots to ginger and raspberries. And pureeing forms a silky emulsion, which means your dressings won't separate. Try one of these salad dressing recipes and vinaigrette recipes to make an irresistible salad!
Brierley Wright, M.S., R.D.
Don't be fooled by the book title. The FastDiet (Atria, 2013), by Dr. Michael Mosley and Mimi Spencer, doesn't call for a total fast—or eating quickly. Also known as the 5:2 diet, it has you adopt a lifelong pattern of fasting two days a week and being "gloriously free from calorie counting" for five days. On those two fasting days, you can eat 500 or 600 calories—for women and men, respectively.
Healthy, Easy July 4 Appetizer Recipes
Celebrate Independence Day with these healthy, easy July 4th appetizers
Start your Independence Day celebration off on a delicious note with these healthy, easy July 4th appetizer recipes. If you want a patriotic theme, start with our Red, White and Blue Corn Chip Bites, or serve Salsa Rojo with blue corn tortilla chips. Many of these easy July 4th appetizer recipes come together in minutes and call for ingredients you already have on hand. Happy July 4th!
More Healthy July 4th Recipes
More Healthy Appetizer Recipes
By Jessie Price, Editorial Director for EatingWell Magazine
Community Question:
What's your best red, white and blue recipe for July 4th?
Healthy Cherry Dessert Recipes
From cherry cheesecake to cherry pie, find easy cherry dessert recipes for this popular summertime fruit.
Whether you have fresh cherries or sour cherries on hand or have dried cherries to use in the off-season, these healthy cherry dessert recipes are delicious ways to eat more cherries. Our cherry pie recipes, cherry cake recipes, cherry trifle recipes and cherry cookie recipes are easy dessert recipes featuring the sweet flavor of cherries. Try our No-Bake Cherry Cheesecake for a delicious potluck dessert recipe with cherries or Almond Cherry Bites for a cherry cookie recipe to enjoy year round.
More Healthy Cherry Recipes & Information about Cherries
Healthy Baked Eggplant Recipes
Eat more eggplant with these healthy baked eggplant recipes.
Eggplant is a versatile vegetable that takes the place of meat in many satisfying vegetarian meals. Our baked eggplant recipes, including stuffed eggplant recipes, are delicious and healthy ways to eat more eggplant. Try our Eggplant & Chickpea Baked Pasta or Indian-Spiced Stuffed Eggplant for an easy eggplant recipe for dinner.
More Healthy Eggplant Recipes
This quinoa veggie burger recipe is a meat-lover's burger: toasted pecans, mushrooms, Cheddar cheese, fresh herbs and red quinoa pack this vegetarian burger full of delicious flavor. It's one of the new tasty quinoa recipes I liked from the last issue of EatingWell Magazine, so I was happy when my husband surprised me by saying, "Let's make these quinoa veggie burgers." (He's mostly a don't-fence-me-in creator in the kitchen, but he was so inspired by that delicious-looking photo that he was willing to follow a recipe for a change.)
Community Question:
What's your go-to veggie burger?