SHARE
Nell Newman's Organic Thanksgiving
How one meal helped launch one of America's best-loved organic product lines.
---

READER'S COMMENT:


"not surprised Joanne bakes Pecan pies it's something out of her own childhood in Georgia & South Carolina.the food is making my mouth water Nell has always reminded me a lot of Joanne to the point of at times confusing the two "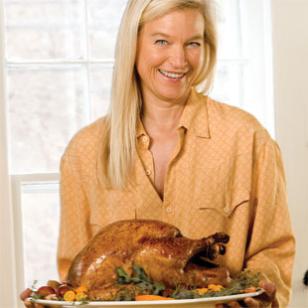 With so many cooks in the family now, what happens in the Newman household on Thanksgiving Day?
Everyone has their own job to do: I'm in charge of overseeing everything and cooking the turkey. My mom makes the pies and Dad makes his famous homemade salad dressing. My sister Lissy makes the sweet potatoes and peas and my other sister Clea makes her special chopped salad.
To set the scene, we have kind of a family compound where my parents live in one farmhouse with a renovated barn and Lissy lives in the other farmhouse. The property is split by a river with a suspension bridge with one house on either side of it. Clea lives in the next town, so everyone is home for the holiday. Dinner is hosted at Lissy's house, which is actually the home where we were all raised as children.
Thanksgiving Day goes something like this: I'm very particular about basting my turkey every 20 minutes, which can be pretty funny as the day progresses. I cook the 25-pound turkey in the kitchen at my parents' barn, where I stay when I'm home. I run up to my folks' house and help Mom bake the pecan pies, I run back to the barn to baste the turkey and then I literally run over the bridge and through the woods to Lissy's house to help make the sweet potatoes and peas. Then I run back to the barn to baste again. I get more exercise than you can possibly imagine! When the turkey is ready I haul it over to Lissy's with my husband, Gary, and join my parents and their two dogs, my two sisters and their husbands, my two nephews and the odd relative or family friend that may join us for the holiday.
It's wonderful to be home again and seated around the table in the dining room of the 200-year-old New England farmhouse. The conversation around the table is lively, generally political and always controversial. At Christmas, we do it all over again and we have the very same meal!