SHARE
Creative Ways to Re-Invent Thanksgiving Leftovers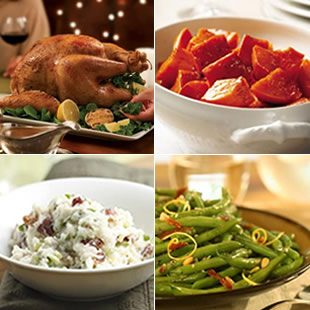 Get delicious and healthy recipes for Thanksgiving leftovers.
I'm looking forward to roasting a turkey for Thanksgiving, but the real excitement for me lies in what's for dinner on the days that follow. When I think of cooking for the holidays, I immediately consider the leftovers. I can't wait to use them in all sorts of other dishes. At Thanksgiving I choose a bigger turkey than I need and I'll do the same when I'm roasting a whole chicken, since they both lend themselves especially well to day-after-the-party meals. Leftover turkey or chicken makes dinner the next night easy on the cook and easy on the budget.
With only about 144 calories and less than 2 grams of saturated fat per 3-ounce serving, roasted turkey or chicken is healthy as well. Plus, cooked poultry is endlessly versatile. But it's not just about leftover turkey. Here are some idea for your extra turkey, mashed potatoes, green beans and sweet potatoes.
—Hilary Meyer, Associate Food Editor for EatingWell Magazine