SHARE
Jamaican Spice
Simple recipes bring bold island flavors to your table.
---

READER'S COMMENT:


"This article is incredible! "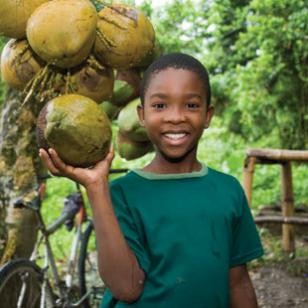 Two Island Flavors
More commonly referred to as amaranth in the U.S., callaloo is the ubiquitous cooking green in Jamaica. Some farmers consider it to be simply a weed, but if you're lucky to find it in bunches at your farmers' market or a Caribbean market, snap it up! It has a texture somewhere between that of collard greens and spinach, both of which are fine substitutes.
One of the hottest chile peppers, Scotch bonnets come in vivid shades of red, orange and green and are used throughout the Caribbean. Though they look similar to habaneros, Scotch bonnets have a citrus note that makes them undeniably different. You can control the heat of a dish a little by discarding the membranes that hold the seeds, which are the spiciest part of chile peppers, along with the seeds themselves. Be sure to wash your hands thoroughly after handling hot peppers or wear rubber gloves. If you can't find Scotch bonnet peppers, habaneros can be substituted.
Carolyn Malcoun is associate food editor. She began working at EatingWell when she was a student at New England Culinary Institute.