July/August 2012 Table of Contents
SHARE
Great recipes and nutrition information from the current issue of EatingWell Magazine. Subscribe Now!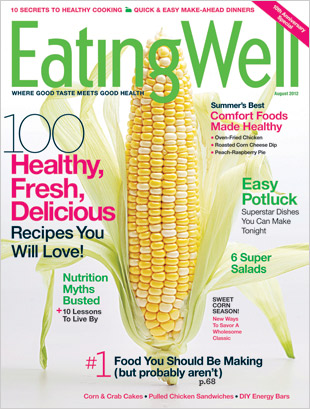 Departments
2 | Recipe Index (pdf format)
4 | From the Editor: You're Invited
6 | Contributors
10 | Feedback
84 | Nourish: Growing Roots
By Lisa Gosselin
Features
40 | What We've Learned: Our 10 Essential Nutrition Lessons
Nutrition science has evolved by leaps in the past decade. Here's what we know now—and didn't then.
By Karen Ansel, M.S., R.D.
46 | 10 Tastiest Recipes of the Last Ten Years
Celebrate with us by cooking up this feast of our favorites.
60 | Sweet Summer Corn
The wholesome corn you grew up with is still there to savor in its short season. So why the controversy?
By Barry Estabrook | Recipes by the EatingWell Test Kitchen
68 | Sushi for the Future
Bun Lai creates crazy, healthy, sustainable and affordable sushi. You can too.
By Lisa Gosselin | Recipes by Bun Lai
Good
13 | GoodLife: Olympic Appetites | Pack a Greener Picnic
16 | GoodTaste: Healthy Frozen Yogurt Toppings | Ultimate DIY Energy Bar
20 | GoodHealth: Is Juicing Healthy? | 5 Ways to Beat Overeating
Healthy in a Hurry
25 | Weeknights: Make-Ahead Picnic Recipes
35 | Fresh Picks: Easy, Tasty Green Beans
38 | Sweet Treat: A Quick, Cool Dessert
Test Kitchen
77 | Techniques: 10 Secrets to Healthy Cooking
Peach-Raspberry Pie