While we love a good muffin as much as the next person, we also love the idea of repurposing that old muffin tin for something other than your standard sweet muffin (as delicious as they are, you can't live on muffins alone!). Using your tin to create the following tasty meals is a great way to portion out food, and you can easily wrap up the leftovers for those days when you're on the go. The following recipes come together in less than half an hour, perfect for busy nights—and you'll be getting even more use out of that muffin tin.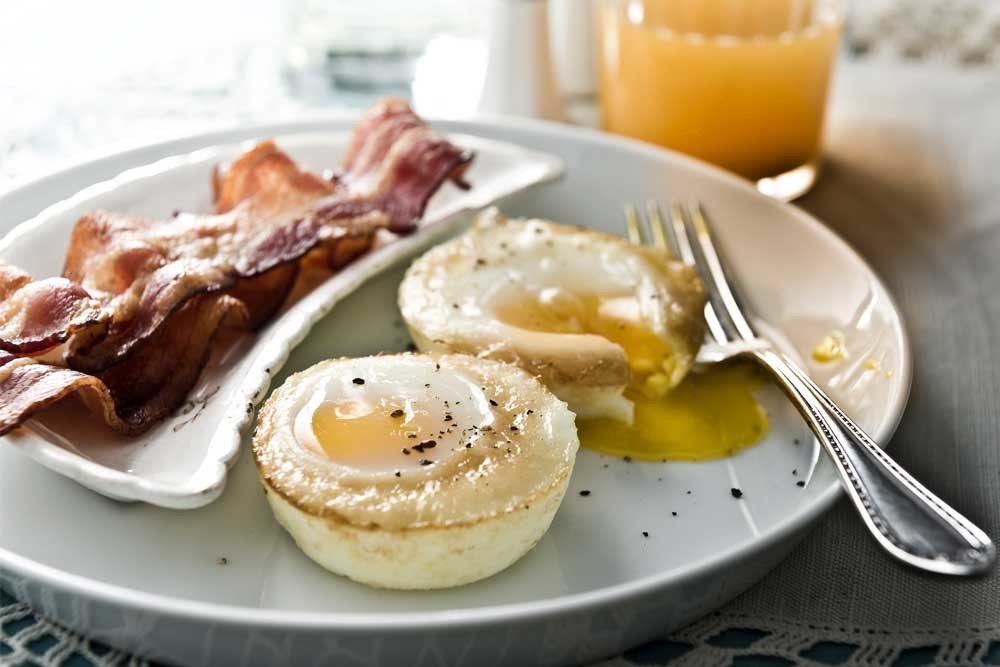 1. Mini taco bowls. Is there anything cuter (or tastier) than an edible cup filled with your favorite taco toppings? Preheat the oven to 350 degrees. Cut tortillas with a biscuit cutter or a cup, and press a tortilla into each muffin cup. Cook your favorite taco fillings — think carnitas or jackfruit, or try ground beef, onion, peppers, and mushrooms, and a sprinkle of taco seasoning — then spoon the cooked mixture into your tortilla-filled muffin cups, topping with shredded cheese. Bake for about 10 minutes, or until the tortillas are golden around the edges and the cheese has melted.
2. Poached eggs. Do you ever need an excuse to have breakfast for dinner? The secret to eating a perfectly poached egg whenever you want is in your muffin tin. Preheat the oven to 350 degrees. Spoon 1 tablespoon hot water into the muffin cups and crack one egg into each. Season the cups with salt and pepper, and bake for 12 to 14 minutes. They're ready when the whites are set and the yolks are runny. Serve it up with some bacon and whole-grain toast.
3. Baked Brie bites. Brie is one of those things that can be hard to stop eating, especially when you don't know how much you've already had. That's just one of the reasons using your muffin tin to control portion size is a good idea—the other is how good these little bite-sized treats will taste. Preheat your oven to 400 degrees. Line each muffin cup with foil, then divide 1-inch cubes of brie into the cups. Top with about 1 tablespoon mango chutney and bake for about 10 minutes. Pair it with a light and healthy salad, and you've got yourself a deluxe dinner.

4. Antipasto. Antipasto can be a main if you play your cards right. Preheat your oven to 375 degrees. Line each muffin tin cup with a piece of salami and bake. While the salami cools, make a filling of your favorite antipasto items, like cut-up olives, tomatoes, artichoke hearts, and basil, and in a bowl, toss these together. Spoon the mixture into the cups when the salami is cool, and serve with crusty bread.

5. Crab cakes. If you have a huge appetite for crab cakes but hate the mess frying them up can make, try the muffin tin version to satisfy your craving instead. Preheat your oven to 450 degrees. In a bowl, mix crabmeat, breadcrumbs, scallions, mayonnaise, egg, hot sauce, celery salt, and black pepper. Coat your nonstick muffin pan with cooking spray, then divide the mixture evenly into your muffin cups. Bake for about 25 minutes, or until they are crispy and cooked all the way through.
Looking for other things to make in your muffin tin? Go here for six more brilliant ways to use it!
Find other great health and wellness stories at EatingWell.com/Strive.