Nutrition
8 Honey-Sweetened Drinks to Soothe Your Throat

+

There's nothing cozier than a steaming hot cup of tea.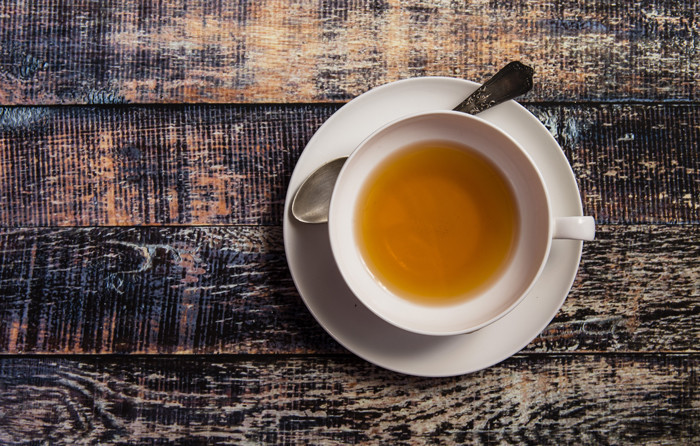 Whether you're feeling really bad or just a little under the weather, sometimes nothing tastes better or feels more soothing than a hot cup of tea with honey. There's just something about holding the warm mug in your hands and sipping away at the tea that can make you feel better (even if it's all in your head). But while the easiest approach is to plop a black tea bag in some hot water and squeeze in a drizzle of honey, that's not everyone's, ahem, cup of tea. Some find it a little on the boring side. Luckily, there are plenty of other honey-sweetened drinks you can have instead. Whip up one of these recipes the next time you want a soothing, honey-sweetened drink:
HOT DRINKS
Sage Tea: You may not realize this, but you can make tea out of a lot of things besides tea bags or tea leaves, including fresh herbs like sage. The result is a hot beverage that smells as good as it tastes (plus it's caffeine free, so it won't stop you from getting your afternoon nap!). Just steep the sage leaves in boiling water for a few minutes, take them out, and combine the liquid with lemon juice and honey.
Warm Honey Green Tea: Plain green tea might be healthy, but it can taste so…plain. This version gets added flavor with strips of lemon peel and orange peel, and doesn't take any extra time; you'll simmer the peels in the water as it boils before steeping the tea. Add a generous squeeze of honey and you're good to go.
Matcha Green Tea Latte: Matcha is super concentrated green tea in a powder form. It's often blended with milk to make a latte, but some people find the flavor to be too bitter for their taste. If that's you, try this version, in which honey adds a nice balance to the matcha flavor.
Herbal Chamomile Health Tonic: When it comes to homemade health tonics, this combination is a classic, but fresh herbs add a fresh twist. Chamomile tea bags get combined with fresh ginger, lemon slices, rosemary sprigs, and honey to create a flavor-packed drink. It tastes good hot, cold, or room temperature, so make a big batch to sip on all week (it stays good for up to three days in the refrigerator).
COLD DRINKS
Honey-Lemon Tea: Prefer your honey-sweetened drinks cold? This Chinese-inspired beverage might be for you. Pick up some dried chrysanthemums in a health food store or Asian market and let steep in hot water with lemon slices. Finish this tea off with honey and chill in the refrigerator before drinking.
Ginger Switchel: This caffeine-free drink features warming flavors like ginger, honey, and molasses that make it perfect for winter, but refreshing lemon and cider vinegar to make it great as a summer thirst quencher too, especially since it's served chilled. Berries make for a pretty, antioxidant-packed garnish!
Green Jasmine-Mint Iced Tea with Lemon: Here's another iced tea for you—and this one uses things you probably already have on hand, like mint and lemon. Make sure to stir the honey in while the liquid is still hot so that it gets fully dissolved.
Rosemary Ginger Honey Simple Syrup: Heat together water, honey, rosemary, and ginger and simmer until the mixture turns into a thick syrup. Then use it to make a soothing drink by mixing with hot water if you want something warm, or seltzer if you want a more refreshing beverage.
Get more great health and wellness stories at EatingWell.com/Strive.