Whether you're planning a trip to the beach, spending the day on a hike, or your office fridge is just too packed with forgotten leftovers to make space for you, you can't always refrigerate your lunch. That's where these options come in. The following lunch recipes won't spoil if they're stashed for a few hours at your desk or in your backpack. The secret? Minimize meat and dairy—and, if possible, pack your food in a freshness-preserving insulated bag or thermos (or at least next to a frozen water bottle).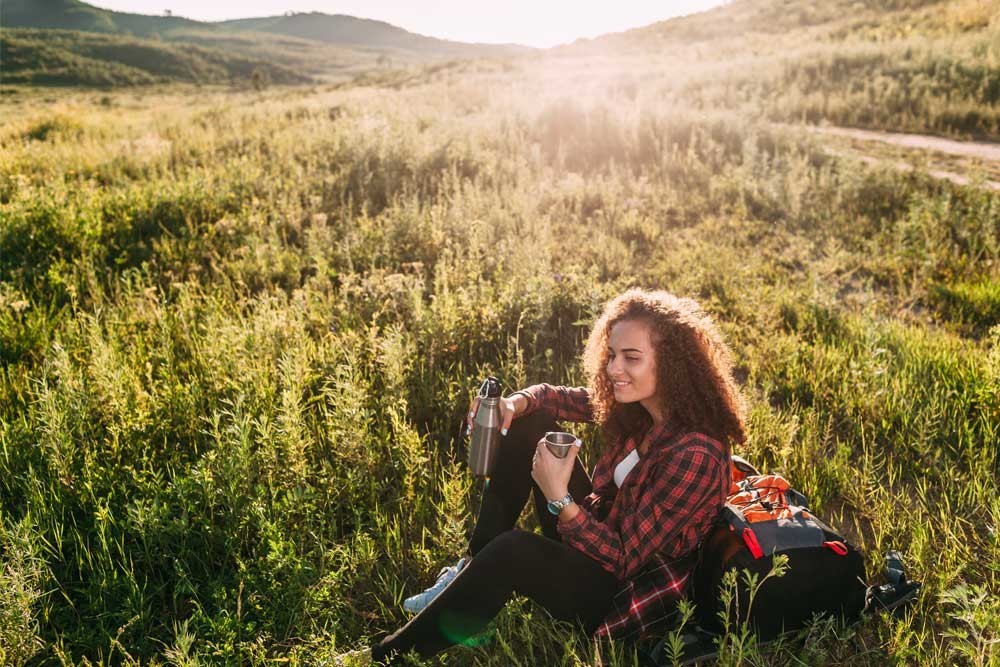 Edamame Hummus Wrap: This recipe utilizes protein-rich edamame for the hummus (rather than chickpeas) to help keep you full. If you're not a fan of cabbage or bell pepper, you can sub in other crunchy veggies like carrots or cucumbers. An eat-neat tip: Keeping the filling inside a wrap or burrito can be a challenge, especially if you're on the go. Wrap your burrito in foil, so you can pick it up and eat it without losing the filling, peeling back the foil as you go.
Strawberry-Almond Butter Sandwich: If you're a fan of peanut butter and jelly, you'll love this grown-up version, which utilizes fresh strawberries rather than jelly that's packed with added sugars. Toast the bread before building your sandwich to keep it from getting soggy. Looking for even more berry flavor with your lunch? Have an Energizing Berry Smoothie! Try combining a packet of Emergen-C Energy+ Blueberry Acai vitamin drink mix with 1 ½ cups milk, 1 cup fresh or frozen berries, ½ tablespoon lime juice, 1 banana, 1 teaspoon honey, and 1 cup ice in a blender. Pop it into an insulated thermos and it can go wherever you're going!
Rainbow Buddha Bowl With Cashew Tahini Sauce: This bright and colorful bowl is a completely Intagrammable lunch. It's packed with lentils, red cabbage, beets, bell peppers, carrots, quinoa, lentils, and cucumbers. Pack your container tightly so it's photo-ready when you remove the lid.
Parmesan Spinach Cakes: These are a portable, gluten-free version of spinach-feta pies, or spanakopita. You can use either baby spinach or mature spinach when making this recipe, but if you go with mature spinach, make sure to remove the tough stems before dropping it in the food processor. (This is one that should be kept next to something cold!)
Spiced Eggplant-Lentil Salad With Mango: Make this recipe the night before, as the flavors get better when you make it ahead of time. If you don't like your food too spicy, don't be turned off by the name; you can customize the amount of chili powder and heat level of the salsa to your preferences. There's no need to keep the ingredients separated, so don't worry about it all mixing together in your reusable container.
Get more great health and wellness stories at EatingWell.com/Strive.