SHARE
Subscribe to RSS
Skinny Gumbo for Fat Tuesday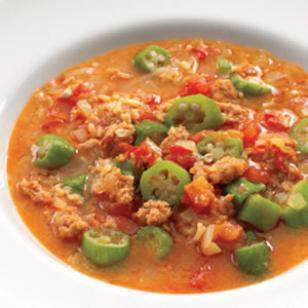 My cousin lives in New Orleans and just about every year my husband, Dan, and I talk about heading down there for Mardi Gras. For some reason we can't seem to get it together enough to actually make it happen. But we still like to celebrate, so we invite a few friends over for a no-fuss Fat Tuesday celebration.
Since Fat Tuesday always falls on a weeknight (duh), I like to whip up a batch of this Sausage Gumbo for the festivities. It's much healthier and easier to make than a traditional gumbo, which takes hours of cooking plus involves making a black roux that's loaded with saturated fat (and needs careful attention). One recipe I found had 480 calories and 40 grams of total fat per serving—eep!
Don't Miss: Easy Mardi Gras Recipes
Our recipe takes just 40 minutes and clocks in at a mere 168 calories and 6 grams of fat per serving. Plus I can make it over the weekend and reheat it before everyone arrives—the flavor just improves as it sits so it'll taste even better! All I need to do is whip up cornbread and a salad, boss Dan to make some fancy drink, put on our Buckwheat Zydeco album and we're ready to party!
Get the Recipe: Sausage Gumbo
TAGS: Carolyn Malcoun, Food Blog, Dinner, Entertaining, Holidays, Recipe Makeover
A graduate of New England Culinary Institute and University of Wisconsin with a degree in journalism, Carolyn pairs her long-standing love for food with writing as EatingWell's senior food editor. Carolyn's culinary interest is rooted in her childhood; she grew up making thousands of Christmas cookies every year with her mom and picking leaves off bunches of parsley to make tabbouleh with her dad. Away from the kitchen, Carolyn enjoys seeking out rare craft beers and exploring the outdoors with her husband, young daughter and dog.
Don't Miss:
Tell us what you think: