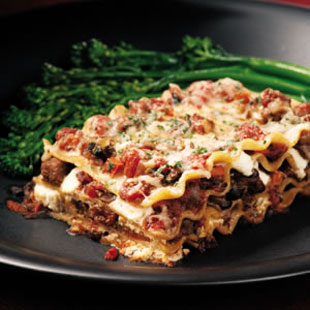 Ah, lasagna… Quite possibly my favorite comfort food, lasagna was one of the first dishes I learned to master post-college. I experimented with many different combinations of ingredients as the seasons changed, but
Classic Lasagna
layered with meat sauce and ricotta cheese filling was always my favorite.
I think the reason I mastered lasagna first was because it is the perfect dish for entertaining, which I loved—and still love—to do. A single pan makes enough to entertain several friends (and who doesn't love
Italian food?
), it can be made in advance and leftovers are a beautiful thing. Once the lasagna has cooled, individually wrap pieces in foil then freeze them in an airtight container. You can defrost just the number of pieces you want—talk about the perfect fast food for singles or couples!
Looking for something a little less traditional? Try
Caramelized Onion Lasagna
, which gets intense flavor from blue cheese, or
Squash & Leek Lasagna
, full of butternut squash, leeks, pine nuts and Parmigiano-Reggiano. If making an entire pan of lasagna seems daunting, try our vegetarian
Lasagna Rolls
or one of our yummy
comfort-food recipes
.
Get the recipe:
Classic Lasagna