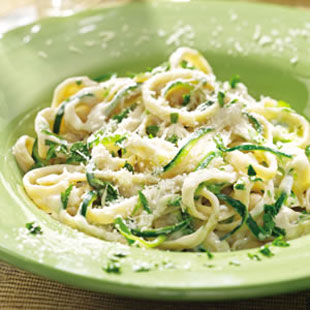 Almost any pasta qualifies as
comfort food
in my book. Give it a rich creamy sauce and plenty of cheese and we're talking heaven. The problem is creamy, cheesy pasta dishes are tough on the waistline. Pasta on its own has plenty of calories—about 180 calories in a 2-ounce serving. Add a creamy sauce and you've just created a calorie bomb. Not to mention that those creamy sauces are normally full of saturated fat. (It's best to keep sat. fat to a minimum for a healthy heart.)
The good news is that there are ways to "fix" creamy pasta dishes. And that's just what we did with fettuccine Alfredo. Here are the changes we made:
* Swap whole-wheat pasta for regular pasta to increase fiber.
* Cut out heavy cream and butter to reduce calories and saturated fat.
* Instead make a creamy sauce with broth, thickened with cornstarch and reduced-fat sour cream.
* Add thinly sliced zucchini to add nutrients and bulk up the dish with minimal calories.
* Use plenty of Parmesan cheese since that's where a lot of the good flavor comes from!