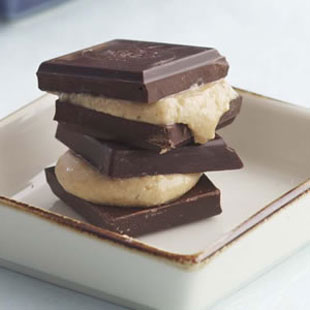 I know that one of the secrets to successful dieting is planning ahead—and that includes snacks. I also know that for me, I absolutely have to have a game plan in place to stay on track—and avoid the candy dish and snacks at work—when hunger strikes.
So I stock my fridge with ingredients for
quick, healthy and low-calorie snacks
. But when I get tired of my go-to snacks, I get creative in the kitchen. These 10 easy snack recipes under 100 calories are my secret to staying lean.
10 days of my favorite 100 calorie (or less) snacks:
Top each chocolate square with 1/2 teaspoon nut butter for sweet satisfaction in seconds. Make these in 10 minutes or less
A classic Japanese preparation.
You don't have to sit around a fire to enjoy S'mores. Just be sure to watch them carefully under the broiler—the marshmallows can go from perfectly toasted to charcoal in a hurry.
Crunchy, sweet and salty, this simple trail mix combines all your favorite flavors in a convenient mix.
This snack is perfect for the kids too—try turkey instead of ham if you prefer.
Wasabi mayonnaise really sets off the smoked salmon in these rice-cracker treats. Make these in 20 minutes or less.
Freshly grated Parmesan cheese and a sprinkle of cayenne pepper dress up air-popped popcorn.
Sturdy apples are flavored with cinnamon and vanilla in this slow cooker apple compote.
All the flavors of a Greek pizza make these savory muffins bite-size treats for adults and kids alike. These take more than 20 minutes, but they're worth the wait.
Our more sophisticated version of crunchy party mix gets its irresistible, rich taste from olive oil and a bit of Parmesan cheese rather than the better part of a stick of butter, or worse, margarine. With two-thirds less fat (none of it saturated) you can forget about that other stuff.