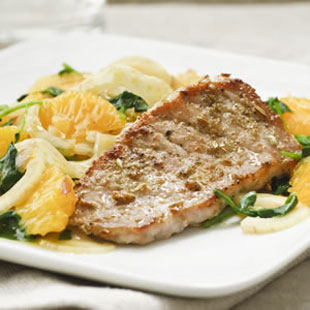 If you're like me, both time and money are tight these days. I would love to spend all afternoon cooking an elaborate meal, but that's not reality. I love pork, and boneless pork chops are my pick of the pig when it comes to quick and easy dinners. Plus at about $3.50 per pound, they make great
budget-friendly meals
. Perfect for a quick and tasty weeknight dinner that won't break the bank.
For example,
Pork Chops with Orange & Fennel Salad
are a terrific antidote to a dreary winter day. Serve them with crusty whole-grain bread or brown rice.
Like that? Here are some more of my favorite
quick and healthy pork recipes
:
Stuffed Pork Sandwich
: The classic Cuban sandwich inspired this recipe. The original is made with ham, roasted pork, Swiss cheese and pickles pressed and griddled between two pieces of soft white bread. Our version cuts down on the meat and is served on a soft whole-wheat bun. Feel free to press it in a panini maker to make it crispy. Serve with vinegary coleslaw.
Pork with Dried Apples & Prosciutto
: Our favorite flavors come together in this simple skillet supper, united in a tangy cider sauce. Accompany the pork with mashed potatoes—perfect for soaking up the sauce.
Black-Eyed Peas with Pork & Greens
: This boldly flavored spin on Hoppin' John replaces salt pork or bacon with lean pork chops. Plus we've added greens—in this case kale—a traditional accompaniment with the dish. Serve with cornbread and a glass of Spanish rioja.