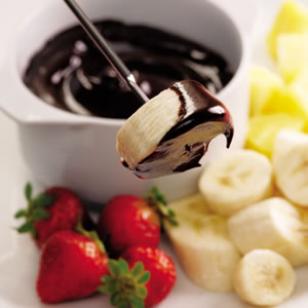 Special occasions like Valentine's Day can be tough on dieters, but there are plenty of
healthy Valentine's Day treats
that won't break the calorie bank (or your diet). Check out these delicious ideas that won't leave you, or your sweetie, feeling deprived:
• Take the traditional approach of offering your significant other rich and delicious chocolate confections. Dark chocolate contains heart-healthy antioxidants and, savored in small doses, absolutely fits into a weight-friendly diet. A tasty (but trim) option:
chocolate fondue
. Or make the gift an even bigger show of your love by taking the time to find yummy and
healthy chocolate recipes
and whip up a batch of "bite-size" treats.
• Or go for the campy approach. Package up some almonds (like
Spiced Spanish Almonds
), which have as many antioxidants as a serving of broccoli or green tea, according to a 2006 study in the Journal of Agricultural and Food Chemistry, and add a silly "I'm nuts about you" note. Recycle an Altoids box (cover the top with your note): the tin is the perfect container for an ounce of almonds (approximately 22 nuts), which pack a satisfying carb-and-protein combo for only 170 calories. And when your loved one keeps refilling the tin with almonds for an
afternoon snack
, the box becomes a daily reminder of how much you care.
Cheesy? Absolutely. (That's the point!) But thoughtful and healthy all the same.