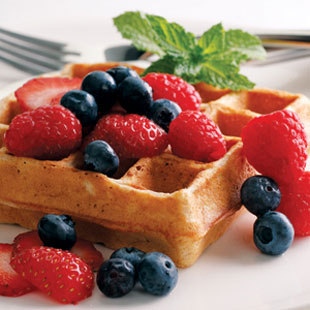 I'm pretty savvy when it comes to making healthy food choices. And at the very least, when I do make unhealthy choices, I usually know what I'm getting into. Waffles, however, seem to trip me up. When I selected
healthy breakfast recipes
for our cookbook EatingWell for a Healthy Heart with Dr. Philip Ades, I was surprised when I compared our healthy waffle recipes with traditional versions—waffles can be really unhealthy!
Many traditional waffle recipes use melted butter in the batter. But for Dr. Ades, a leading cardiac researcher at the University of Vermont, using butter in recipes is an absolute "no-no." He's adamant about the importance of limiting saturated fat as part of a
heart-healthy diet
. (We had to keep all the recipes butter-free in
EatingWell for a Healthy Heart
, including our recipe for
Amazing No-Butter Apple Pie
!)
Anyway, we developed
this delicious waffle recipe
that even Dr. Ades could approve of. Here's how we made it healthier:
* Reduce calories and fat and eliminate saturated fat by using canola oil in place of butter.
* Use egg whites in place of whole eggs to cut down on calories and saturated fat.
* Replace all-purpose flour with whole-wheat flour to add fiber.
* Top waffles with fresh fruit or yogurt instead of whipped cream or additional butter to keep fat and saturated fat down.
Here's how our waffles stack up against traditional versions nutritionally:
Traditional Waffles:
* Calories: 560
* Fat: 27 g
* Saturated Fat: 18 g
* Sodium: 938 mg
* Fiber: 2 g
* Calories: 241
* Fat: 4 g
* Saturated Fat: 0 g
* Sodium: 450 mg
* Fiber: 3 g