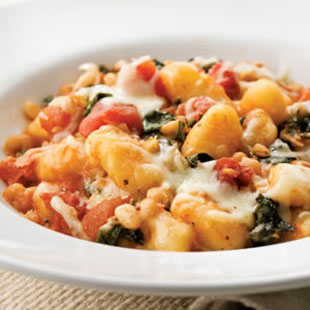 There are plenty of people in Vermont who relish the freezing temperatures and snow that come during the heart of winter. I'm not one. While my friends are out skiing, I'm in the kitchen, dressed in my most comfortable sweatshirt, looking for new
dinner recipes that are low in calories
, but big in flavor.
Here are my 5 all-time favorite winter recipes (all with less than 370 calories and packed with lean protein and fiber-rich vegetables):
Skillet Gnocchi with Chard & White Beans
: In this one-skillet supper, toss dark leafy greens, diced tomatoes and white beans with gnocchi and top it all with gooey mozzarella. Serve with a mixed green salad with vinaigrette.
Turkey & Squash Soup
: This Southwestern-inspired turkey-and-squash soup gets a little kick from crushed red pepper and some zing from fresh lime juice. You can use leftover turkey or chicken (instead of the cutlets); dice it and add a few minutes before serving. Serve with cornbread.
Paprika Shrimp & Green Bean Saute
: Green beans add snap and color to the garlicky shrimp and butter beans in this Spanish-inspired sauté. Slightly pricier pre-peeled shrimp are worth it, given the amount of time they save on a harried weeknight. Serve with quinoa or brown rice.
Beef & Cabbage Stir-Fry with Peanut Sauce
: The subtly sweet peanut sauce blends deliciously in this beef, cabbage and carrot sauté. Spice up the dish with a few dashes of your favorite hot sauce. Serve with udon noodles.
Black-Eyed Peas with Pork & Greens
: This boldly flavored spin on Hoppin' John replaces salt pork or bacon with lean pork chops. Plus we've added greens—in this case kale—a traditional accompaniment with the dish. Serve with cornbread and a glass of Spanish rioja.