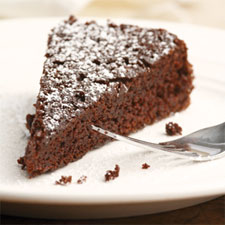 The EatingWell Test Kitchen reviews gluten-free cookbooks and baking mixes.
For traditional baked goods, bakers usually use only one flour—wheat flour, which contains gluten. As gluten heats, it expands, capturing the carbon dioxide released during the leavening process. "Gluten is what holds baked goods together and gives them structure and springiness," says Annalise G. Roberts, author of Gluten-Free Baking Classics (Surrey Books). Without gluten, baked goods can be dense or gummy. So a lot of trial and error goes into creating gluten-free recipes that mimic the taste and texture of traditional baked goods.
In the EatingWell Test Kitchen, we tried recipes for baked goods from several different gluten-free cookbooks. Two favorites: fudgy brownies from Gluten-Free Baking Classics and Cheddar biscuits from Robert M. Landolphi's Gluten Free Every Day Cookbook (Andrews McMeel Publishing).
If you're looking to make one of your favorite recipes gluten-free, you can use one of the gluten-free baking mixes available in place of the wheat flour. These mixes are blends of flours milled from other grains or legumes, such as rice, sorghum (a grain widely cultivated in Africa and Central America) and chickpeas. They also contain starches, such as tapioca and potato, to help add structure.
We tried several of the mixes in place of wheat flour in our One-Bowl Chocolate Cake recipe. The cakes tasted great but were less fluffy than the cake made with wheat, and some of the less-familiar ingredients in the mixes lent a slight aftertaste. We found that adding a little extra flavor enhancer, such as vanilla or lemon zest, can help mask those unfamiliar flours.
Gluten Free Cookbook Reviews
This recently updated book proves that gluten-free baked goods, such as quick breads, cookies and even doughnuts, can be delicious! Roberts clearly explains the science behind combining different gluten-free flours to mimic the structure and texture of baked goods made with wheat. The book also includes tips on egg, dairy and sugar substitutes for those with other food allergies. Some recipes in the book are a bit decadent, but worth the occasional splurge. We tested the fudgy, chocolaty Brownies and the rich Sour Cream Coffee Cake and found that both could fool a wheat aficionado!
See a sample recipe »
Influenced by European and Californian cuisine, Mallorca's book includes healthy breakfast dishes, quick suppers and even elegant dinner fare. Mallorca uses unusual flours like teff, wild rice and montina to spice up the myriad healthy recipes offered. Tips on what foods to avoid and potential contaminants, such as wheat in soy sauce or malt on seemingly "safe" cereals, are helpful. We tested her Yogurt–Rice Flour Pancakes and thought they were absolutely delicious and comparable to any traditional pancake. The rice flour gives the pancakes a tender, light texture. Try them topped with fresh fruit, preserves or syrup.
See a sample recipe »
Gluten Free Every Day is ideal for those newly diagnosed with celiac disease. Landolphi's wife, Angela, was the inspiration for this book. Angela suffered for years before realizing she was gluten-intolerant. Using his culinary training, Landolphi wrote Gluten Free Every Day to ensure that his wife could still enjoy the foods she loved, including macaroni and cheese, onion rings, baked goods and other sweets. Try the Cheddar and Chive Biscuits! They are flavorful, flaky and have just the right fluffy biscuit texture that you would expect from biscuits made from wheat—but they are wheat-free. In the first chapter of the book, the author provides complete nutrition information for ingredients that are commonly used in gluten-free cooking and baking. And he provides a list of "safe" alternative brands for everyday foods that typically contain gluten, such as crackers, oats, pasta and beer.
See a sample recipe »
This is a delicious guide to Italian cooking for those who thought that pizza, pasta and breads were off limits! As a diagnosed celiac and optimist, Capone explored the many foods she could still enjoy from her ancestral heritage and realized that gnocchi and tiramisù could be altered to suit her gluten-free lifestyle. The Gluten-Free Italian Cookbook reflects Capone's desire to connect with her roots and pass on family recipes, such as biscotti and risotto. The book provides helpful pantry and storage tips and includes an informative section on healthy fats. For a satisfying and flavorful experience, try Raven's Pizza Pie with an herbed focaccia crust and sausage and sun-dried tomato topping. Although the crust was softer than traditional pizza crust, our tasters agreed that the pizza was delicious and a good substitute for pizza made with wheat flour.
See a sample recipe »
This book and gluten-free resource from the reputable culinary school teaches the reader the fundamentals of baking and offers many tips and techniques for baking gluten-free, like Chef Coppedge's 10 guidelines for making gluten-free bread. Included in an introductory chapter is a complete "shopping list" of items needed to make the recipes in the book. Recipes include savory baked goods, such as pretzels, bagels and yeasted breads, and plenty of cakes, cookies and brownies to satisfy even the sweetest gluten-free tooth. We loved the taste and texture of the crunchy, salty-sweet Peanut Butter Cookies.
See a sample recipe »
As the title suggests, this book is dedicated to producing healthy, delicious meals with minimal effort. Fenster emphasizes the use of "flavor-intensive" ingredients, such as fresh herbs and citrus, to keep gluten-free meals satisfying and delicious, and outlines time-saving tips like doubling a recipe to help create a second meal. The book also includes storage suggestions and helpful menu suggestions to aid the reader in meal planning. Try the Oatmeal Cookies with golden raisins for a healthy snack or even as a breakfast treat with a cup of tea. We also made the moist and fudgy Chocolate Bundt Cake and got rave reviews from our tasters.
See a sample recipe »
By Kristin Ohlson
Reviews by Bageshree Blasius