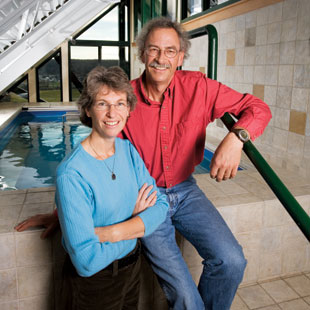 How one couple lost more than 100 pounds between them and how you can too.
In 6 months, one couple lost more than 100 pounds between them—thanks to a life-changing, university-tested program, VTrim™. Here's how they did it and how you can take the pounds off, too.
David Blittersdorf has the tall, rangy look of someone who has always been thin. Having just celebrated his 50th birthday, he has a few more gray streaks in his hair than he used to, but he walks with a purposeful stride that makes him seem much younger and carries a lean 170 pounds on his 6'1" frame. You might never guess that a mere 18 months ago David was 80 pounds heavier. His friends called him "Buddha" and in clinical terms, he was obese.
Jan Blittersdorf, 47, David's wife of 23 years, is what some might call "statuesque." At 5 feet 10 inches tall and around 145 pounds, she's not the same woman who once combed the plus-size racks in clothing stores. "I went from a plus-size 2X to a size 12," says Jan, who lost 55 pounds over a year and a half. Now, "instead of looking for camouflage," she shops for form-fitting clothes.
What happened was a transformation neither Jan nor David could have imagined. The Vermont-based couple, who just couldn't see themselves drinking slimming shakes or attending weight-watching meetings, reinvented themselves—literally—with the help of an innovative weight-loss program that skipped the gimmicks. Instead, the VTrim program focused on helping the Blittersdorfs change the behaviors that put on the pounds in the first place. "VTrim wasn't a fad diet or a magic bullet or potion," says Jan. "It was just common sense."
VTrim was developed by Jean Harvey-Berino, R.D., Ph.D., a nationally recognized weight-loss researcher at the University of Vermont and an EatingWell Nutrition Advisor. Her concept is based on behavior change: a systematic shaping of daily habits to help people move more and eat less. VTrim's focus on everyday strategy sets it apart from conventional weight-loss plans. "Most diets tell you what to do but not how to do it," says Harvey-Berino. "They don't provide you with a plan for the long term."
Harvey-Berino developed the strategies and tools that the Blittersdorfs used in their weight-loss journey. She then worked with EatingWell to adapt them into a book, to be published this month by Countryman Press, The EatingWell Diet. Our book lists the seven essential steps the Blittersdorfs and other VTrim participants took toward achieving healthy weight loss and adds in a 28-day menu plan and nearly 100 recipes from the EatingWell Test Kitchen.
Here's how the program worked for Jan and David Blittersdorf.
Step 1: Make Sure You're Ready for Change
Sometimes a single event is all it takes to spur you to commit to losing weight—a chastening visit to a doctor, say, or the death of a loved one. David, for one, got plenty of wake-up calls: his cholesterol was out of control, staying above the 220-milligrams-per-deciliter danger zone even as his doctor prescribed higher and higher doses of a cholesterol-lowering drug. One winter afternoon, he nearly fainted as he bent over to lace up his skates for a pick-up hockey game. His own mortality suddenly loomed large. "I used to think I'd be fine if I made it to age 65," David explains. "But as I got closer to 50, it scared the heck out of me that I could drop dead of a heart attack any day."
For Jan, the signs were more subtle. She'd gained a few pounds a year as she raised her children—but her kids were now 18 and 21, and her weight had climbed to nearly 200 pounds. "I wasn't eating junk food; I've always been interested in healthy eating," she says. "I just ate too much.''
Looking back, David describes them as "living the fat, happy American lifestyle." Maybe they weren't always happy, but they were certainly busy: Both were working long hours at NRG Systems, the world's leading manufacturer of wind-measurement equipment for the energy industry. David founded the company in 1982 in his college dorm room; Jan, a former nurse whose student loans once provided the first venture capital, was recently made CEO. (David now designs small home wind turbines for Earth Turbines, his new startup.)
Like most overworked executives, David and Jan didn't have much time to prepare or plan meals or even think about what they were eating. And, while they weren't couch potatoes, neither found time to exercise regularly. Ironically, even after NRG moved into a super-energy-efficient "green" building, which had extensive fitness facilities, including an indoor pool, the Blittersdorfs still rarely found time to work out. "The fitness room was sort of for everybody else," admits David.
Just as the pounds crept on slowly, so did the recognition that it was time to make a change. The turning point came when the Blittersdorfs spent a summer vacation with John Miller, an NRG engineer who had just shed more than 70 pounds following the VTrim program. "He'd gone from looking like me to being this skinny guy who was doing all kinds of exercise," David recalls. The more Miller told them about VTrim, the more the Blittersdorfs liked the concept. It seemed simple enough: keep track of daily food intake and exercise in a journal, and meet weekly with an educator trained in nutrition and behavioral techniques, a person who would help you to replace old habits with healthier ones. That the plan was science-based and university-backed was especially appealing. Inspired, the couple agreed to sign up for the next VTrim session, that September. "I knew there was no turning back," says Jan.
Step 2: Set Goals
To kick off VTrim, the Blittersdorfs met weekly with about 15 others and then-program director Beth Casey Gold, M.S., R.D. The group plotted the course their lives would take for the next six months and beyond. But at the time, it felt more like they were planning to get through a single week. "That's the principle behind behavioral intervention," explains Harvey-Berino. "You don't say, 'I have to lose 60 pounds for this cruise I'm taking in December'—that's too overwhelming. Instead," she continues, "you set short-term, manageable, achievable goals. You achieve one, then you move on to the next."
Although they'd dreamed of losing much more, the Blittersdorfs decided to aim to take off 20 pounds each by the end of the six-month program, losing at the slow, steady rate research shows is most sustainable: one to two pounds a week. Working with Gold, they set specific weekly behavior goals—such as squeeze in a 10-minute walk at lunchtime on at least three workdays, or snack on a piece of fruit instead of chips. "It's this focus on the 'hows' of everyday life that makes this approach work," says Harvey-Berino. "You really have to get that specific to change behavior."
Gold also helped the Blittersdorfs set daily calorie goals, based on how many calories they needed just to maintain their current weights. A simple formula gave them a ballpark range: their current weight in pounds, times 12. Since one pound of fat contains about 3,500 calories, they'd need to cut 3,500 calories on average—about 500 per day—to lose one pound a week (see "Calculate Your Calorie Goal"). Doubling that to 1,000 fewer daily calories would let them lose approximately two pounds per week. (The lowest calorie goal on the plan is 1,200 daily calories; below that level, "it's hard to meet your daily nutrition needs," explains Harvey-Berino.)
"The calculations were so simple, but they really worked," says Jan. David concurs: "As an engineer, I understand formulas. You play by the rules, and the formula works."
Step 3: Track Yourself
In those first meetings, Jan and David also received what was to become their most powerful tool for losing weight—a daily diary, dubbed "the little green book." Their assignment was to carry it with them everywhere, to write down everything they ate and drank, then tally up the calories at the end of each day. And, whenever they made a conscious effort to exercise, they were instructed to write down what they did and for how long, estimating how many calories they'd burned. It all went into the little green books.
For David, a self-confessed "junk-food junkie," the results were a sobering shot of truth serum. "I was drinking almost 1,000 calories a day just in sodas." Although he had calculated that about 3,000 calories daily would keep his current weight steady, the diary revealed he was actually taking in about 3,900 calories—while getting virtually no regular exercise. In the weight-management world, that amounts to a perfect storm for gaining.
"For me, it was a kind of ignorance, really," admits Jan. "Not knowing what a portion size was, not thinking about how calories added up." She remembers, "I'd love to get a bagel and cream cheese in the morning. I had no idea it was over 400 calories."
With program director Gold's guidance, the group learned to measure out everything they ate until they were able to recognize sensible portions. "In this culture, people tend to eat two to three times a normal portion without blinking an eye," says Gold. "I think working hard to be as accurate as possible really worked in Jan and David's favor."
The simple act of writing down behavior, in fact, is a key component of successful weight control. "Having the evidence right in front of you makes you accountable for your behavior," explains Harvey-Berino, "and it can point you to what you need to change." Besides his soda revelations, David's journal documented that he often skipped breakfast, setting himself up for uncontrollable hunger later in the morning. "I'd come into the office and grab a doughnut and a soda," he recalls (a little wistfully). Now, after acting on suggestions from Gold, David starts most days with a bowl of whole-grain oat cereal. He has also switched to diet sodas—not exactly breaking the soda-drinking habit, but saving him nearly 1,000 calories a day. "Calories are calories without judgment," explains Gold, "so we encourage any change that decreases caloric intake."
Step 4: Eat Mindfully
With a daily calorie goal to aim for, and diet diaries to record how they'd get there, the Blittersdorfs had begun to cultivate a ground-level awareness of the food they were eating, and how much. In their weekly meetings, they learned practicalities: what realistic portion sizes looked like, how to fill their plates with vegetables, salads and other low-calorie foods, how adding a little protein to each meal prolonged its staying power. No food was off-limits, but no food was below scrutiny, either. Even that mini candy bar cadged from a co-worker's desk had to be accounted for. "You don't pass judgment on what you eat, but you have to count it," David says. "So you end up eating better anyway." Case in point: after years of avoiding salads, he now eats them almost daily.
With time, the calorie awareness became intuitive, and the Blittersdorfs acquired the confidence to handle situations that had previously triggered them to overeat. "I remember being terrified to go to a friend's house for brunch," recalls Jan. "How was I going to be around all that delicious food without falling apart?" She smiles. "Now, it's a no-brainer, because I've learned I can have a good time without having to try everything." Instead, she'll choose a few items she likes, skipping the rest—and eat them in moderate portions. "If there's a Danish sitting in front of me, I'll cut off a small piece, not eat the whole thing. That's enough for me to be satisfied."
The behavioral-modification skills the Blittersdorfs honed on the program come in handy when they eat in restaurants too. David learned to control his environment so that he's not surrounded by tempting food (what behavioral scientists call stimulus control). He no longer lets himself be served a typically huge restaurant portion. "Instead, I'll say, 'I'd like it without sauce'—or 'just bring me half a portion, and wrap up the rest for me to take home,'" he reports confidently. "When you ask for what you want, restaurants are really accommodating."
Step 5: Commit to Move More
When asked about her old exercise habits, Jan is brutally honest. "I got virtually no exercise," she admits. "We'd take a hike sometimes on weekends, or I might do a tiny bit of swimming." David played the occasional hockey or basketball game, but he was hampered by how hard it was just to move. "I couldn't even walk upstairs without huffing and puffing," he remembers. "After all, I was carrying along 70, 80 extra pounds everywhere I went."
As sedentary as they were, the Blittersdorfs were still ahead of the 26 percent of American adults who report getting no physical activity in their leisure time, according to the Centers for Disease Control. And no wonder, when getting through the day rarely takes more than getting into a car or sitting in front of a computer screen. "Society just isn't set up for us to be active," says Harvey-Berino. "Our participants tell us it's the biggest obstacle they have to overcome."
And yet, successful weight loss is practically impossible without an exercise commitment, according to the National Weight Control Registry—a database of more than 5,000 people who have lost a minimum of 30 pounds or more and kept it off for at least a year. While participants report using any number of different methods to lose the pounds, one common thread unites virtually all of them: they engage in regular physical activity.
Harvey-Berino emphasizes incorporating so-called "programmed" activity—deliberately making room in a daily schedule for exercise, usually walking. "That's the only way it becomes a habit," she explains. Doing it at a regular time each day makes it easier to remember and plan around, and tracking daily activity in the diet diaries helps establish and reinforce that routine.
Taking it one step at a time, the Blittersdorfs began with longer and longer daily walks and bike rides. They also reacquainted themselves with the stair machines and fitness bikes in the NRG Systems fitness room to get them through the long Vermont winter.
And they started to see results, slowly and surely. "I lost about 2 1/2 pounds each week," David remembers—so he met his 20-pound goal within two months, and kept going. "By the time we completed the six months of classes, I was down to about 185 pounds." He'd lost 65 pounds.
Jan had to keep revising her expectations. "I was down to my goal, about 180 pounds, by the end of November, so I decided that in my wildest dreams, I'd like to get down to 165." When she made that goal a few weeks shy of the six-month mark, "I didn't want to stop." She continued to lose 20 more pounds within the next few months.
As the pounds came off, more energy and enthusiasm for exercise moved in. Today, the Blittersdorfs aim for a 45-minute walk two or three times a week, with biking, kayaking or swimming on the weekends.
As with the food they eat, both are ever cognizant of the calories they're expending—and by now, the calculations are instinctive. One of their favorite bike rides is around a lake near their vacation home in northern Vermont. "It's an 11-mile loop," notes David. "We know we use up about 50 calories a mile, so that's 550 calories." Likewise, they try to sneak in activity wherever they can, whether it's taking the stairs instead of escalators, using a push lawnmower rather than a sit-down type—or, in David's case, shingling his own roof last summer instead of hiring someone else to do it. "I'm trying to be the Energizer bunny," he explains. "Just moving a lot more in everything I do."
Step 6: Get Support
The Blittersdorfs know they are lucky. All along their journey to losing weight, they've had the support and encouragement of their families, friends and work colleagues (including John Miller—himself an encouraging reminder of the program's success). But most of all, they had each other.
"It was so much easier doing this together," says Jan. "We'd help each other write something down if one saw the other forgetting." Each was the other's empathetic cheerleader. "Because the weight loss was so gradual, nobody really noticed for the first four months or so," said David. "It really helped to have someone else going through the same experience."
Of course, not everyone is able to forge such a successful weight-loss partnership. With some relationships, in fact, the opposite occurs when one partner manages, unintentionally or otherwise, to derail the other's efforts to lose weight. (That would be the "friend" who groans when someone orders a skim cappuccino instead of dessert, or the spouse who buys his partner's favorite brand of super-premium ice cream.) The EatingWell Diet includes strategies for identifying sources of support as well as handling those so-called "saboteurs."
Step 7: Plan for Life
As challenging as it was to lose the combined 135 pounds—the equivalent of another whole person—the greater challenge the Blittersdorfs faced (and still face) is keeping the pounds from coming back on. Studies show that this "maintenance phase," (which might better be called "the rest of your life") holds the most booby traps.
Why? "At that point, weight loss is no longer so rewarding," explains Harvey-Berino. "People stop complimenting you, you're no longer moving down to smaller and smaller clothing sizes. You're just staying the same. And yet," she goes on, "you have to continue on with your new behaviors even without that positive feedback. That can really be tough." Therefore, to complete the program, dieters need to come up with a "Long-Term Success Plan" that outlines in exquisite detail just what behaviors worked best for their individual weight loss—and exactly what they should do if an inevitable lapse occurs.
In fact, knowing that they will lapse—and being prepared for it—has been empowering, not frightening, for the Blittersdorfs, even as they've both weaned themselves off having to use their diet diaries. Through the program, they've mastered techniques to overcome the "all-or-nothing" thinking that so often derails a successful weight loss. They've learned to rewrite their internal scripts by replacing negative thoughts [say, "I can't control myself around pizza,"] with positive counter thoughts ["I'll have one slice with vegetable toppings and really enjoy it."]. By thwarting negative thinking before it becomes a downward spiral, they help ensure, says Harvey-Berino, "that a lapse doesn't become a relapse—or worse, a collapse."
"If I gain three to five pounds, that's when my disaster plan kicks in," says Jan. "I'll bring myself back to daily weighing and recording everything I eat." Adds David, "I understand averages. If I blow a few days, but get right back on track and cut back later in the week, I can still hit my target." What's noticeably absent is the guilt they used to feel around eating, and the fear that they wouldn't be able to stick with their healthy habits.
Just how far have the Blittersdorfs come, since that summer day they decided to change their lives? In his "Buddha" days, David couldn't ride his bike for more than a mile without becoming exhausted. But last summer, his new, leaner body biked the length of the state of Vermont—a total of 230 miles. Riding with three other NRG engineers, he made it from the Massachusetts border to the Canadian border in just five days, with plenty of Tour de France-style mountains in between. Included in the group was John Miller (admiringly dubbed "Lance" by his comrades), their original inspiration.
In regular postings on his blog, David reported on the group's mileage and mishaps, the swimming holes and thunderstorms and (still versed in the language of his diet diaries) the stupefying quantities of food he needed to keep fueled. "Pigging out on peanuts, ice cream, gator-aid [sic]," he wrote from Bellows Falls, Vermont. "I ate 3,600 calories today and burned 2,300 biking."
Later, in a reflective post that seemed to sum up much more than just the past week's accomplishments, David wrote, "Amazing what the human body can achieve, even ones that are nearing the half-century mark."
Then he added, "What's next?"
Joyce Hendley is the Nutrition Editor of EatingWell and co-author of The EatingWell Diet (The Countryman Press, 2007).