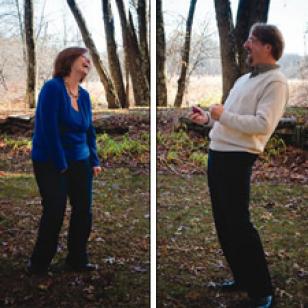 Losing weight is challenging—we can't expect to do it alone.
Losing weight is never easy, but having a supportive crew certainly makes it easier.
Find friends who can help keep you motivated
(like the neighbor who's not going to be happy when you sleep through your morning run). Delegate some chores to a family member so you can make time to go food shopping or exercise. On the flip side, avoid getting yourself into "compromising situations" (think: dinner at an Italian restaurant) with an acquaintance who always seems to be sabotaging your slim-down efforts.
Articles, tips and community discussion:
*
Tools to help you this week:
Photo Caption: Together, husband-and-wife Troy Hermansky and Jenn Moore lost 34 pounds on the EatingWell Diet.