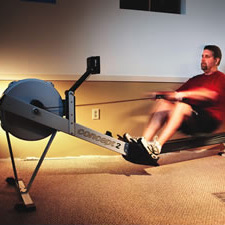 No matter where you are now, you can become "an exercise person."
Any "self-respecting" weight-loss plan has an exercise component. You don't have to run a marathon to shed pounds; setting a goal to burn 1,000 calories per week through aerobic activities, such as brisk walking or jogging, cycling or rowing, will probably do you just fine. Don't worry if you're more of a turtle than a hare: It makes no difference whether you run two miles in 16 minutes or walk them in a half hour. Assume that you burn about 100 calories for each mile you walk or run: to hit 1,000 calories, you'll need to put in two miles a day, five days a week. (If you're cycling, estimate 100 calories for every three miles you ride.) Enhance your caloric burn by doing everyday things the "hard way"—take the stairs instead of the elevator, for example.
9 ways to get more exercise:
Tips and tools to help you this week:
Photo Caption: Mark Catalana hops on his Concept2 rower whenever he has a half hour free.