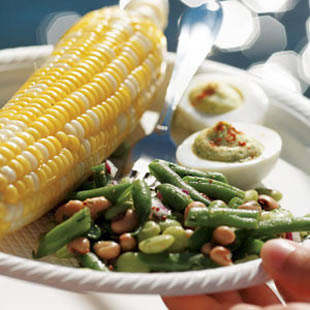 To give you a taste of summer here in Vermont we decided to throw a potluck. Come on over, bring a dish and relax—We've got you covered with six light and easy makeovers of your favorite potluck classics.
When you ask everyone to bring a dish, throwing a party suddenly becomes incredibly easy. Potlucks work best if the host gives direction about what type of dish to bring so you don't end up with 15 desserts and no vegetables, but apart from that it's pretty stress-free. Recently, we asked readers and staff about their favorite classics, and picked six recipes to make over. The dishes had to be transportable and in need of a little help nutrition-wise. We got tons of requests for standbys like broccoli-bacon salad that appear over and over on potluck lineups. And we also got some more obscure beauties like seven-layer salad. which a reader begged us to fix, saying that her recipe was "very good but full of fat and sodium." We're happy to report that with a little less heavy mayonnaise, smaller portions of cheese and less sugar, all six dishes are now healthier and tastier than ever. Try one at your next potluck.
Food-safety tip: Cold foods cold, hot foods hot
When you bring a dish to a potluck make sure you keep it at the right temperature until you're ready to serve it. Transport cold dishes in a cooler and keep them cold until you eat. Heat foods that are served warm just before the meal.