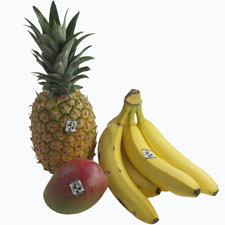 Yes, we have better bananas.
The concept of fair trade has made the leap from coffee mug to fruit bowl.
"Fruit farmers around the globe often receive only a few cents a pound for their crop, far below the cost of production," says Haven Bourque, spokesperson for TransFair USA, a fair-trade certification group. Under fair-trade plans, struggling farmers are guaranteed a viable price for their yield and a safety net should market prices fall below the cost of production. To qualify for fair-trade certification, farmers must use sustainable agricultural practices, designed to protect farm workers and the environment.
Following the successful growth of fair-trade coffee, now available in much of Europe and the United States, TransFair has broadened the market to include fruit. Look for the Fair Trade logo on bananas from Ecuador, mangoes from Peru, pineapples from Costa Rica and, during the winter months, grapes from South Africa. "The result," says Bourque, "allows small family farmers to stay on their land, put food on the table, and keep their kids in school."