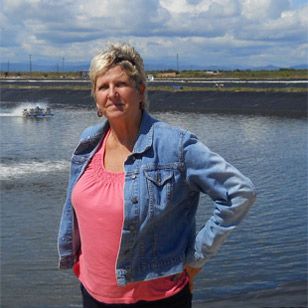 How shrimp farmer Linda Thornton's Cardelli Shrimp Farm is protecting the environment.
Shrimp farmer Linda Thornton can glance out any window of her home in Belize and see what she's contributed to sustainable aquaculture. Her view: 405 acres of pine savannah containing the four glistening ponds that make up Cardelli Shrimp Farm.
Founded in 2006, Thornton's farm is hardly typical of cultivated shrimp. Her industry is one often defined by grossly unsanitary conditions compensated for by overused antibiotics. The resulting chemical and organic waste often leaches into the surrounding environment and wreaks havoc on local fisheries and wetlands. When it comes to shrimp, many people see "farm-raised" as a label to avoid.
Thornton is looking to change all this. Her team stores and recycles pond water (thus allowing them to avoid the use of chemicals or antibiotics) and replants mangroves to filter out excess nutrients that can be harmful to surrounding wildlife. They are currently building 50 additional acres of ponds and are planning to create a large aquaponics system, which will repurpose the nutrient-rich waste water to cultivate organic vegetables.
As if all that isn't enough, Thornton worked with the World Wildlife Fund to compile global certification standards for farmed shrimp products. The final draft of these standards, released in December, will help minimize the environmental and social impact of shrimp farms around the world—and make it clearer which shrimp to buy in the supermarket. Not bad for a woman who first came to Belize on a vacation paid for by a tax refund.
Photo Credit: Dean Forman